Metered customers normally receive a bill every 6 months. We will let you know when to expect a bill from us after your meter is installed, or if we make any change to this.
We aim to read your meter at least twice a year. If we haven't been able to read it when it is time for your bill, we will use an estimate based on your past water use. At least one bill in any 12 month period will be based on an actual read.
You should only try to read your meter where it is safe and practical to do so.
Locating Your Meter
A meter will normally be fitted in an underground chamber between your property and the highway. The description on you bill may help you locate your meter or phone our Billing line 0345 877 0030.
External meters are usually located inside a metal or plastic box at the boundary of your property.
The foam inside helps to protect your meter from frost, so please remember to replace it before you close the lid again.
Reading Your Meter
Some meters have a flip lid above the dial which you will have to lift to take a reading
If the glass on top of the meter is cloudy with condensation, you can usually clear this by tapping gently on the glass with a blunt tool e.g. the plastic or wooden end of a screwdriver. You may need a torch to help you read the meter, as it will be some way below ground
Each water meter has its own unique serial number which may contain numbers only or letters and numbers. This number is shown on the second page of your metered bill. See example diagrams below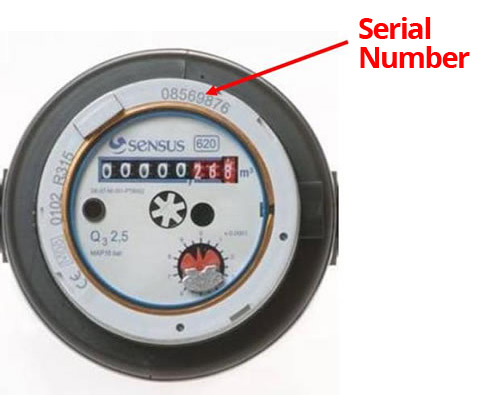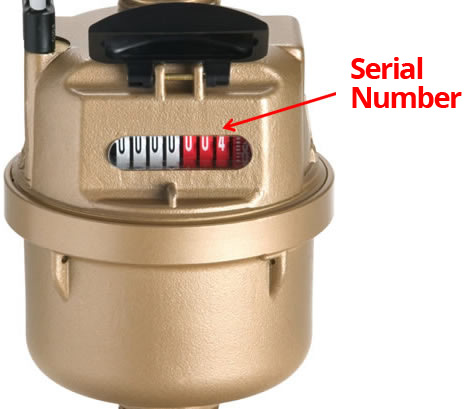 To take a meter reading you only need to read the black digits on the meter dial which show full cubic metres of water used. Please ignore the red numbers which show decimal fractions of a cubic meter.
It is important once you have finished reading the meter, the lid is properly closed with the foam frost protection back in place.
Things to Note
A significant increase in your consumption may indicate leakage on your supply. If we find that a meter reading shows an unusual and significant increase we will alert you to this usually by writing to you.
It is your responsibility to check for and repair any leaks, please take regular readings to help identify any possible leaks.
It is common to see water in the meter chamber; this is usually rainwater or groundwater. If you find water in the chamber after a long dry spell and your usage is high, it may indicate that you have a leak please click on the link for further information for leakage responsibilities, allowances and costs.
If you notice any damage to your meter, or the chamber it is housed in please phone us on Waterline 03457 440088 and we will assess the urgency of this and arrange a repair if necessary. The meter and all associated fittings belong to Northern Ireland Water. After installation, we shall be responsible for maintaining or replacing the meter, unless it is damaged or misused by you or through your negligence. In this case, you will be liable for any repair charges.
Meter Accuracy
The accuracy of a water meter is confirmed by the manufacturer and Trading Standards before it leaves the factory. However if you think the meter supplying your property is faulty please phone us on Waterline 03457 440088. If a meter is not accurately measuring your consumption it is more likely to under record (record less than you are using) than over record the amount of water used.
What steps will NI Water take?
We will visually confirm that the meter is functioning at no charge
If you are still unhappy you can contact Waterline 03457 440088 to discuss and ask us to have it tested. There is a fee for the meter test so we recommend that you carefully check for leaks or any other reasons for unusual consumption before asking for the test. The fee depends on the size of your meter and must be paid in advance.
If you decide to have the meter tested we will tell you about the payment procedure and ask you to apply in writing.
The test will determine if the meter complies with the Measuring Equipment (Cold Water Meters) Regulations 2006, and we will send you a copy of the results. A meter which has been in service is considered to be recording with acceptable accuracy if the test shows consumption within +/-2.5% of actual consumption at the nominal (normal) flow rate, which relates to the size of the meter.
If the meter is found to be working correctly, we will keep the test fee. If the meter fails the test, the test fee will be returned.
If you have been over or under-charged as a result of a faulty meter, we will adjust your bill accordingly. We will normally assume that your two most recent bills have been affected by the fault.
If the last two bills have been based on estimated readings the charges will be amended on the basis of retrospective application of consumption details determined from meter readings taken by us from the replacement meter.
Please note – Your meter will have to be removed in order to be tested. We will replace the meter while the tests are carried out. Usually due to the costs involved in changing a meter, we will not reinstate your original meter, regardless of the test results.
Further guidance and information regarding Billing and Metering can be found in the document below, which can be printed for future reference.