NI Water Unveils New £3m Pumping Station in Lisburn
21 July 2009 14:51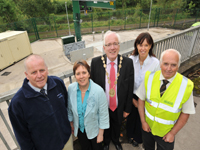 Northern Ireland Water (NI Water) is delighted to unveil its new £3m Huguenot Drive Wastewater Pumping Station in Lisburn. The new station, which supplements the original station (originally built in 1975), has been welcomed by Lisburn City Council as complimenting its regeneration of the Lagan corridor.
John Water, Project Manager NI Water said:
"The new foul pumping station will provide an enhanced quality of service for our customers in Lisburn and includes a new generator to deal with 'emergency' scenarios. Situated close to the River Lagan, we were keen to develop a site that would improve river water quality and meet environmental standards. We also anticipate reduced maintenance costs due to this development"
"We were delighted to have Lisburn City Council on board and would like to thank its members and staff for their valuable contribution to the development".
Councillor Jenny Palmer, Chairman of the Council's Economic Development Committee, who was involved from the early stages of the project, also commented:
"It is encouraging to see the investment that NI Water has put into the local system here in the Huguenot Area. Improved water quality is a priority for the Council and I look forward to working in partnership with different agencies to further progress significant environmental improvements. The Council were keen to support the project as it will further enhance their own work in this area with a major environmental improvement scheme due to commence in the Autumn. The scheme will see the development of a new riverside park with improved links and pathways, habitat restoration and new entrance features"
The Right Worshipful the Mayor Councillor Allan Ewart said: "We are pleased that NI Water has completed this project in Lisburn. In addition to this significant investment the Council is committed to their strategy to improve the environment along the entire length of the Lagan Corridor for local residents and visitors alike."