Anyone Missing a Screwdriver ?
01 October 2009 11:37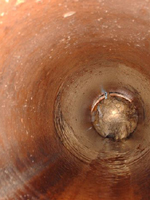 If so, Northern Ireland Water (NI Water) has found it, dumped down a drain in the Rathgill area of Bangor where it, and a ball of rags, was the cause of a recent blockage and out of sewer flooding.
'Bag It and Bin It' is NI Water's campaign to educate the public on the dangers of flushing inappropriate items down the toilet. NI Water needs the help of residents in Bangor to spread this message to keep the sewers in the area clean and blockage free.
Our sewerage system was only designed to cope with human waste and small volumes of toilet roll. Other items such as cotton buds, nappies, tampons and baby wipes which people flush down the toilet do not break up and usually clump together to form a ball of rags.
David Dangerfield, Interim Director of Operations explains:
"Blockages can have a dramatic impact not only on individual customers, but also on the environment and community. NI Water is playing an active role in educating the public on the benefits of disposing of their waste in a bin. This will help improve the efficiency of the drainage system as well as safeguarding the environment and peoples homes."
DUP member Peter Weir, MLA for the area, comments:
"This is an excellent example of local representatives and NI Water working with and for the people. By raising awareness of the problems of inappropriate flushing and dumping among residents in Bangor, we can dramatically reduce the amount of rubbish flushed into the sewerage system."
Items which should NOT be flushed include:
· Screw drivers
· Fats, Oils and Grease
· Nappies and baby wipes
Ӣ Cotton buds
· Cotton Wool
Ӣ Sanitary towels and tampons
Ӣ Panty liners
Ӣ Condoms and femidoms
Ӣ Razor Blades and toothbrushes
A copy of the 'Bag It & Bin It' leaflet is available to download from www.niwater.com. To obtain a hard copy of the leaflet please call Waterline on 08457 440088.