H&S at NI Water Recognised by ROSPA
29 October 2009 14:31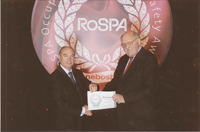 Northern Ireland Water (NI Water) has received a prestigious award from the Royal Society for the Prevention of Accidents (RoSPA). The award, presented to NI Water at the Occupational Health and Safety Awards 2009, was in recognition of its work to prevent accidents and ill health.
The Silver Award was accepted by NI Water's Head of Health & Safety, Eddie McVeigh:
"We are delighted to have received such a prestigious award as it recognises the efforts of all of our employees in promoting a safe working culture. To mark the European Safety & Health at Work Week in October, NI Water organised a series of health & safety events, which will ensure we continue to uphold our commitment to protecting the health and well-being of all our employees."
The RoSPA Awards are not just about reducing the number of accidents and cases of ill-health at work; they help to ensure that organisations have good health and safety management systems in place.
David Rawlins, RoSPA awards manager said:
"NI Water has shown a commitment to protecting the health and well-being of its employees and others. Entering the RoSPA Awards reinforces the message that good health and safety is good for business, and clearly demonstrates an organisation's dedication to improving in this crucial area."
NI Water recognise that staff are the most valuable resource, and creating a safe place to work is central to NI Water's commitment in creating a great place to work. The organisation's health and safety initiatives are part of a broader move to improve safety, quality and standards throughout the business - as a safe organisation is also a successful one.