'Water' Lesson at North Down Training
17 November 2009 8:58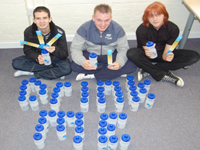 Students from North Down Training Centre had a lesson with a difference when NI Water's Education Team paid a visit bringing 130 water bottles.
The college wanted to encourage students to drink water during class as it can improve concentration, rather than high energy, carbonated drinks.
Natalie McClurg at North Down Training Centre commented:
"During breaks and lunch the students were often drinking fizzy, high carbonated drinks which left them hyper and less likely to concentrate in class. We wanted to encourage the students to drink water instead and the bottles were a great way to do this.
"It is important that the students are well hydrated as this can help improve their concentration. So far, most of the students are using their bottles and topping them up regularly during the day. The staff are also using the bottles and setting an example."
NI Water donated 130 water bottles to the centre and 'Wee testers' which show the effects of dehydration.