At Least We Have a Choice
18 November 2009 15:25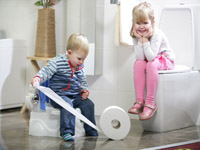 Thursday 19 November is World Toilet Day and NI Water is calling on the public to spare a thought during their daily trips to the loo to the 2.5 billion people who don't have the luxury of basic toilet facilities.
NI Water's official charity, WaterAid, helps communities in developing countries build hygienic toilet facilities, improve sanitation and provide access to clean, safe drinking water. For many, the experience of going to the toilet involves having to walk several miles to find somewhere private, dig a hole or squat in the road.
Frank Stewart, WaterAid's honorary secretary and NI Water employee explains how funds raised can save lives:
"We are spoilt with the choice and availability we have when going to the toilet, from a basic potty to the most luxurious bathroom suite. In communities that don't have somewhere safe and hygienic to go to the toilet, disease spreads rapidly as people defecate in public areas, water courses and where children play. The resulting water born diseases kill almost 5,000 children every day. Their deaths, from common diseases, are preventable.
"Through fundraising, WaterAid helps communities build clean, hygienic toilet facilities. Improving sanitation not only improves health, but also people's dignity and livelihoods. The charity also provides water facilities to improve access to clean drinking water and teaches people about ways in which they can limit the spread of disease."
To play a part in improving the sanitation and living conditions for two fifths of the world's population, consider a donation to WaterAid. To make a donation log on to www.wateraid.org or telephone 0845 6000 433.