NI Water Completes £1Million Investment in Lower Ballinderry
04 December 2009 9:13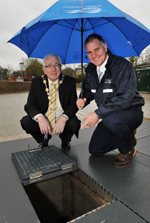 Northern Ireland Water (NI Water) is delighted to unveil its new £1.25m Wastewater Treatment Works situated in Lower Ballinderry (in the wider Lisburn area).
NI Water Project Manager, David Knight said:
"The new Wastewater Treatment Works will provide an enhanced quality of service for our customers in the wider Lisburn area. We were keen to develop a site that would improve wastewater facilities, improve river water quality and meet environmental compliance standards.
The Mayor of Lisburn, Councillor Allan Ewart who was on site, said:
"It is encouraging to see the investment that NI Water has put into the local system here in the Lower Ballinderry area. This new works will accommodate new development in the area and serve the local population well into the 21st century."
The project is an excellent example of NI Water working with local companies. Lower Ballinderry WwTW was successfully completed in partnership with Maghera-based BSG Ltd, Mallusk company, Williams Industrial Services, and Doran Consulting, which is situated in Belfast.