£1.8 Million Scheme for Annaghmore
04 December 2009 11:53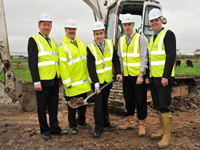 Northern Ireland Water is moving full speed ahead with the construction of a new wastewater treatment works (WwTW) in Annaghmore, Co. Armagh. The new WwTW facility (which will replace an older unit dating back to the 1970s) will effectively meet increasing demand and growth in the area.
NI Water Project Manager, David Hilary (pictured) said:
"We are delighted with the progress made so far on this exciting project. The people of Annaghmore will soon benefit from improved wastewater treatment services in the area. NI Water is committed to providing it's customers with the highest standard of service".