Whitehead Theatre Group Go 'Baba' for H2O
09 February 2010 10:16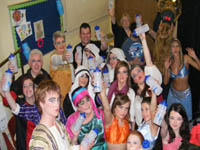 Northern Ireland Water (NI Water) recently teamed up with the Whitehead Theatre Group during rehearsals for the Pantomime 'Ali Baba and the Four Tea Leaves' to encourage them to increase their water intake.
After 'tea leafing', over 40 NI Water bottles, director of the show Stuart Drennan, decided it was a good idea for the cast to drink more water in order to stay hydrated:
"Producing this show was hard work for all involved. The cast were rehearsing on average 6-8 hours a week, and with physical exercise involved such as dancing, it was vital to keep everyone's fluid levels well topped up. Increasing water intake can help improve concentration and the bottles were a great way to encourage the cast to do this.
"The cast were really pleased with their bottles and find themselves using them for other daily activities such as going to the gym."
On average, people should try and drink around 6 - 8 glasses of water or fluid every day. Good hydration helps maintain a healthy weight, improves attention and concentration and can increase exercise and fitness levels.
Last year, NI Water delivered the best water quality ever achieved in Northern Ireland and with no calories, fat or sugar in tap water, there's never been a better time to increase your water intake. OH YES YOU WILL!
For further information on the benefits of drinking water, visit http://www.niwater.com/informationleaflets.asp and click on 'Water Coming From a Tap Near You'.