Ecoworld Comes to Silent Valley This Summer
07 July 2010 13:27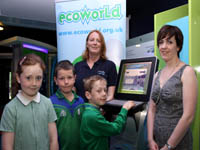 Young consumers visiting Silent Valley can now learn more about saving water with the help of Ecoworld. Ecoworld is a web-based game developed by the Consumer Council and CCEA that helps young people understand how the consumer choices they make today affect our lives and the environment into the future.
Kathy Graham, Head of Water at the Consumer Council said, "We are delighted to have worked with Northern Ireland Water (NI Water) to bring Ecoworld to Silent Valley. With large numbers of families and school groups visiting every year, it is a great opportunity to teach young people about the importance of being responsible consumers at home, at school and in the community. One way they can do this is by thinking about how they use water and how much they waste. Helping them to get into good habits when they are young, such as taking a short shower when they are able instead of a bath will not only help reduce the amount of water they use but could even lower energy bills as well.
NI Water's External Communications Manager, Celine Rodgers said: "NI Water is delighted to host Ecoworld in the visitor centre at Silent Valley. We place great importance on educating young people in the vital role water plays in our lives. Ecoworld will be a welcome addition to the range of activities available for school groups and indeed all visitors to the Valley."
Ecoworld can be played online at www.ecoworld.org.uk.