NI Water Talks to Treetops Probus Club in East Belfast
30 July 2010 11:33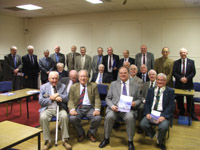 Brian Henderson of NI Water recently visited Treetops Probus Club to talk to members about the Belfast Sewers Project.
The project is one of the biggest and most important infrastructure investments in the city, involving work to upgrade the existing sewer networks and the construction of a large diameter drainage tunnel to increase stormwater capacity.
The Project will bring major benefits to the city of Belfast including a cleaner environment and a reduction in the risk of flooding.
The Project is just one example of NI Water's many water and sewerage projects. Improving the wastewater infrastructure in Northern Ireland is a major priority for NI Water and by 2013 the company plan to invest in excess of £300 million on improvements to the sewerage network system and wastewater treatment works.