Murphy welcomes water and sewerage improvements in Seagahan and Keady
14 February 2011 8:16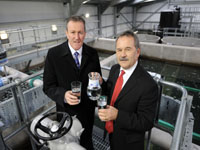 Regional Development Minister, Conor Murphy, today welcomed the completion of a £6.6 million investment programme to upgrade the existing water treatment facility at Seagahan, Armagh.
The Seagahan project will ensure drinking water provided to Armagh and the surrounding area is of the highest quality standard and will comply with EU drinking water quality standards. During the day, the Minister also visited Keady to mark the start of work on a £5million Wastewater Treatment Works.
The new Keady Wastewater Treatment Works will be constructed within the existing site of the old plant. It will bring significant benefits to the area, including an improvement in the overall standard of wastewater treatment and the capacity of the works. The new facility will also meet future NI Environment Agency discharge standards and EU regulations.
Welcoming the improvements, the Minister said: "I welcome the completion of the Seagahan plant and start of the Keady project. There is no doubt that both projects will bring significant benefits to customers in Armagh and the surrounding area. This project will improve water quality and dramatically improve the water and sewerage infrastructure in the area."
Trevor Haslett, Interim Chief Executive of NI Water said:
"The £6.6million in Seagahan and £5 million investment in Keady is part of NI Water's overall focus on providing an essential infrastructural investment programme.
This investment in water and wastewater services is good news for customers in the area. Both of these plants will meet the needs of the growing local population and ensure compliance with all current National and European environmental regulations."
Seagahan Water Treatment Works and Keady Wastewater Treatment Works are just two examples of the many projects being undertaken by NI Water to improve infrastructure here. These projects represent part of a £490 million investment by NI Water in wastewater services throughout the North over the past three years.