Local school children get green-fingered at new Bushmills Wastewater Treatment Works
18 February 2011 13:34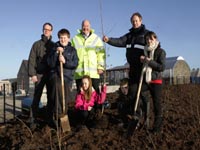 Pupils from Bushmills Primary School have helped Northern Ireland Water to plant a native oak tree to mark the completion of their extensive landscaping programme around the new Bushmills Wastewater Treatment Works (WwTW) off Whitepark Road.
The modern new treatment works - constructed as part of a £7m sewerage upgrade for the Bushmills and Portballintrae areas has been sympathetically designed in form and materials to resemble the appearance of a farmyard setting, with natural stone and curved roofs incorporated to help blend the facility into its surroundings.
As part of the extensive landscaping, over 5,000 native trees and shrubs – including species such as oak, ash, alder, willow and holly - have been planted around the new treatment facility with 300 metres of thorn hedges placed along the river bank to further help disguise the buildings.
Protecting and enhancing the local environment has been a key objective for NI Water throughout the scheme, as project manager, Kieran Grant explains: "The Bushmills and Portballintrae Wastewater Treatment Project represents a £7m investment by NI Water into improving the quality of bathing waters and rivers in the area. A lot of effort has been put into the design and form of the new wastewater treatment works in Bushmills and all work has been carried out with the utmost consideration for the local environment. Not only did we need the buildings to be practical in housing the most advanced treatment systems available but we also wanted the entire development to be sustainable and aesthetically pleasing.
"Constructing the new Bushmills Works gave NI Water the opportunity to integrate sustainable systems – such as a rainwater harvesting device – and further enhance the local environment and biodiversity of the area by strengthening river banks with indigenous stone, placing bird boxes along the river bank and introducing an otter holt – something that didn't previously exist.
"All of these river environmental improvements were carried out in close liaison with our colleagues in the Department of Culture, Arts and Leisure, and with their support, NI Water also formed a new river path and a number of wheelchair-friendly fishing platforms adjacent to the new works which aid access and enhance the entire fishing experience for all anglers."