World Water Day 22nd March
21 March 2011 11:38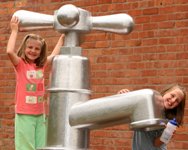 To celebrate World Water Day on March 22nd, NI Water is pleased to announce that for the 4th year running, our customers are enjoying the best ever quality of water in Northern Ireland.
NI Water has again recorded the best ever drinking water compliance and the best ever wastewater treatment compliance for 2010. This improves on the record level of compliance achieved in 2009 and means that customers are receiving high quality water from their tap; something that we normally take for granted.
NI Water's Director of Asset Management, George Butler, comments:
"I am delighted to announce that for four years in a row the quality of drinking water has improved and the compliance of our wastewater treatment works is the best ever.
"NI Water is fully regulated for both the sampling and analysis of drinking water quality and wastewater treatment and carries out hundreds of thousands of tests on samples each year to ensure the level of compliance is achieved.
"Although the final figures still have to be audited by the environmental regulators, it looks as if the targets set by the Assembly and the Regulators have been surpassed, again.
"On World Water day, it is welcome news for all our customers and it is a reminder of how we appreciate having access to high quality drinking water and safe disposal of our wastewater."
NI Water works closely with their nominated charity, WaterAid, who work with local communities in the developing world by providing practical low cost solutions, using simple technology, to gain access to safe water, sanitation and hygiene education. Just £15 will ensure one person has clean drinking water and sanitation for life.
You can donate to WaterAid by visiting www.wateraid.org