Concrete Found in Local Sewers
20 July 2011 11:45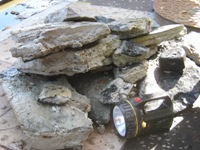 What really lurks beneath our homes? The answer, in Bridge Street, Newry is concrete!
NI Water recently attended a blockage in the Bridge Street area of Newry and instead of finding the usual items that block our drains like baby wipes, they found large slabs of concrete!
Anthony McGirr, Customer Manager for the area explains:
"NI Water constantly finds inappropriate items dumped down the sewer. Items vary from nappies, wipes, sanitary products and cotton buds, which wash into pumping stations and block sewers. This time however, we found large slabs of concrete, half the size of the sewer itself!
We think that the concrete was hosed into the sewer while it was still a liquid and it hardened in the sewer. This particular sewer pipe is less than 1 metre wide and not designed to cope with materials such as this. Those responsible need to think twice before dumping such items in the sewer.
The same is true for people pouring fat, oil and grease down the sink. When fat, oil and grease solidifies in the sewers it prevents wastewater flowing through the pipe, and often causes a blockage."
To help the system work properly, we need to use it responsibly. Whilst NI Water has a responsibility for the sewerage system, everyone in Northern Ireland has a duty to dispose of their waste appropriately.
You can view first hand the damage inappropriate items can do to a sewer by visiting our Youtube page http://www.youtube.com/user/northernirelandwater
Log on to our Twitter account and Facebook page and let us know if you have been affected by a blockage.