Watch out, Sewerface is about!
21 July 2011 15:51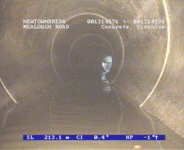 What really lurks beneath our homes? The answer, in Newtownbreda, is Sewerface!
NI Water recently carried out CCTV investigations on a sewer in Newtownbreda and instead of finding the usual items like baby wipes, they found a new spooky friend.
Davy Sloan, Field Manager for the area who found it explains:
"NI Water constantly finds inappropriate items dumped down the sewer. Items vary from nappies, wipes, sanitary products and cotton buds which wash into pumping stations and block the pumps. They also block sewers which often causes internal and external flooding. This time however, the CCTV picked up a spooky face at the end of the tunnel. We think the image is a result of a combination of the bend in the sewer line and variations in light. Some of the guys have given our new spooky friend a few nicknames, 'Silver Surfer' and 'the Phantom Pipe', however, Sewerface seemed more appropriate."
Although 'Sewerface' didn't cause a blockage, he was discovered whilst looking for one and the message remains that people need to be more responsible with the disposal of their bathroom waste. Whilst NI Water has a responsibility for the sewerage system, everyone in Northern Ireland has a duty to dispose of their waste appropriately.
So, bin your cotton buds, baby wipes and sanitary items and watch out, Sewerface is watching what you flush!
You can also view first hand the damage inappropriate items can do to a sewer by visiting our Youtube page http://www.youtube.com/user/northernirelandwater
Log on to our Twitter account and Facebook page and let us know if you have been affected by a blockage.