NI Water team get to work at the NI Hospice
08 August 2011 15:12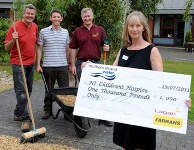 The project team working on NI Water's Water Mains Rehabilitation Programme recently undertook some voluntary work at the Northern Ireland Children's Hospice in Glengormley. The team got to work on the 5 acre site with the busy task of landscaping, weeding, and creating a new "Sensory Garden" with a wide variety of plants and herbs in the grounds of the Children's Hospice. The team also donated much needed funds and contractors Farrans and Lagan Construction presented the hospice with a donation of £1000.
Receiving the cheque Ellen Hillen, Corporate & Trust Fundraiser said "We are indebted to our corporate supporters for the voluntary and financial support they give to Hospice. Families often tell us that it is the time we give and the understanding of the situation they find themselves in that makes Hospice special and at Hospice we hope to be able to make this difference to as many life limited children and their families as is possible.
As well as the important special nursing care given to life-limited children and young people, it is the provision of additional support such as music and play therapy and being able to enjoy the beautiful garden that brings joy, and creates special memories for these children and their families".
Gary Curran, NI Water Project Sponsor said: "We are delighted to assist with such an important cause and look forward to working with the hospice on other future projects."
Northern Ireland Hospice provides care to adults, children and young people living with a terminal illness both at hospice and at home. Services are available 24 hours a day, every day of the year and there is no charge. With limited government funding, Hospice relies heavily on voluntary income and legacies to continue providing essential hospice care to adults, children and their families across NI.
When not working at the hospice, the Team are focussed on the second phase of the ongoing Water Mains Rehabilitation Project which marks a planned investment of over £100million over the next four years.
The project entails upgrading in excess of 1000 kilometres of water main infrastructure throughout Northern Ireland during this five year period, dramatically improving the quality, reliability and flexibility of water supply across Northern Ireland while also reducing leakage.