20 Waterbutts up for grabs!
20 September 2011 15:10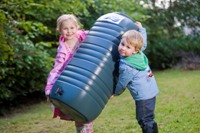 To mark the launch of NI Water's new water efficiency webpages, the company is giving away twenty waterbutts.
Conserving water isn't just a summer task, we need to be actively doing it all year round. In fact, autumn is a great time to use water saving products such as a waterbutt considering the extra rainfall at this time of year.
NI Water's Water Efficiency Champion, Celine Rodgers, explains:
"We are all aware of the amount of rain we get in Northern Ireland, however, we still need our customers to be 'water wise' and realise the importance of conserving water.
We would encourage our customers to check out our new water efficiency advice webpages and to adopt some of the simple tips such as:
Ӣ Using water from your waterbutt to water plants;
Ӣ Using watering cans around the garden instead of hosepipes and sprinklers;
Ӣ Filling a jug of water and placing it in the fridge to cool;
Ӣ Using buckets to wash the car instead of a hosepipe;
Ӣ Not leaving taps running longer than necessary, for example when brushing teeth or washing vegetables; and
Ӣ Mend leaking taps - taps that drip once a second result in the loss of 33 litres of water a day.
Twenty 190 litre Waterbutts* plus accessories are up for grabs and 30 runners up will receive a water saving goodie bag. The competition is open to all customers in Northern Ireland and entries should be sent to clare.lewsley@niwater.com or to Clare Lewsley, Room 16 Westland House, Old Westland Road, Belfast, BT14 6TE no later than Friday 21st October – tell us in no more than 60 words what you would use a new waterbutt for, your name, address, contact number and email address.
For more details visit: http://www.niwater.com/waterbutt.asp
NI Water's new water efficiency pages can be found by logging onto http://www.niwater.com/waterefficiency.asp where you will find full terms and conditions of the competition. You never know, you might get some ideas for you entry!
*Customers will be expected to collect their waterbutt from NI Water's head office in Belfast.