Chairman visits the call centre
04 October 2011 11:19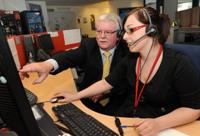 NI Water's recently appointed Chairman, Sean Hogan, paid a visit to the organisation's Customer Contact Centre.
Chairman Sean Hogan, commented:
"The Customer Contact Centre is a vital communication channel for many of our customers. While callers to our Waterline number often have a positive experience, we recognize this was a side of the business that was totally overwhelmed last winter. Therefore, it was important to visit the centre, meet the staff and hear about the improvements that have been made for future major incidents.
"The Board is very clear about its priorities for the forthcoming months – we will be working with the staff of NI Water to implement the recommendations contained in the NIAUR and other reports. Our aim is to ensure the organisation is as ready as it can be to face another incident of the magnitude faced last year.
"However, I am also very aware of the question everyone is asking; 'could the same thing happen again?' The answer is very simple, NI Water will be prepared for another bitterly cold winter, but we simply cannot do it on our own. We need our customers to work with us. Now is the time to look to our homes, schools, businesses, farms and work premises and see what can be done to prepare for the winter.
"Simple measures such as lagging pipes, knowing where your stop valve is, having the number of a plumber to hand can all make a huge difference. We all have a role to play to reduce the risk of disruption to water supplies."
NI Water has a number of initiatives in place to assist customers with their winter preparations. A leaflet and a video detailing how to protect your property are available on our website and stop valve tags are available by phoning Waterline on
08457 440088 or emailing waterline@niwater.com
NI Water's 'Winter Warmer' video can be viewed on our Youtube channel