£4 Million Investment for L'Derry Complete
01 November 2011 11:29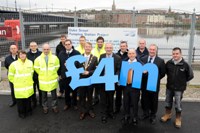 NI Water is pleased to announce the completion of a major £4 million pumping station and pumping main in the Duke Street area of Londonderry.
This project represents part of an overall investment of £28 million in the city's wastewater infrastructure, which will facilitate planned and future development on both sides of the Foyle.
Regional Development Minister Danny Kennedy said:
"The completion of this project is excellent news for local people and for the environment. This £4million investment reduces the potential for 'out of sewer' flooding in the area. It will also improve the water quality in the River Foyle and will help meet Northern Ireland Environment Agency Standards."
The Mayor of Londonderry Alderman Maurice Devenney added:
"The council welcomes the completion of this scheme which will bring significant benefits to wastewater services in the area for customers and will allow for future growth in the city."
Bill Gowdy, NI Water commented:
"The Duke Street Wastewater Pumping Station project is an excellent example of working in partnership with other agencies and the Council. Congratulations to all the team involved for the enthusiasm and dedication they brought to this scheme."
Shearwater Consortium was the contractor for the project and Halcrow AECOM assisted NI Water as regional project managers for the scheme.