Fuel Laundering Damage to Aughnacloy WwTW
03 November 2011 14:58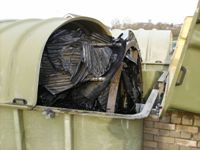 NI Water and Dungannon & South Tyrone Council are appealing to the local community to help us protect Aughnacloy Wastewater Treatment Works (WwTW). The plant has suffered from ongoing damage by suspected fuel laundering, which is causing pollution, impacting on water quality and damaging equipment at the plant.
The plant is suffering because of acid that has been poured into the sewer system by suspected fuel launderers. The acid kills bacteria used in the treatment process to break down human waste and damages essential equipment needed for the entire process.
Northern Ireland Water has already spent £33,000 replacing the corrugated plastic discs within treatment tanks in the Co Tyrone plant because of this suspected fuel laundering in the previous 3 years, and are now are expecting to spend an additional £41,000 this year and these costs could rise further to £89,000.
Michael McAlary, Wastewater Services Manager for the area said:
"We would appeal for the support of everyone to help stop this. Those carrying out these acts are damaging their own community, as these incidents are causing pollution and having a negative impact on water quality of the nearby river course. The cost of repairing the damage is also a huge factor. Repairing the tanks creates a needless drain on extremely limited resources that could be better used to improving and enhancing our services to the local community."
NI Water recently met representatives from the council at the site of Aughnacloy WwTW including the Mayor of Dungannon and South Tyrone Cllr Kenneth Reid.
The Mayor said:
"The council is appealing for an end to this ongoing damage to the plant. This suspected fuel laundering is damaging the treatment process and impacting on the local water quality. The costs associated with repairing damage will ultimately impact on budgets and planned projects to update and improve water systems."
If any member of the public witnesses any suspicious activities around NI Water sites or around the sewer network, particularly out of working hours, they are encouraged to report this to the PSNI. Any other information can be reported to NI Water's customer relations team via Waterline on 08457 440088.