New Facilities at Silent Valley
14 March 2012 12:15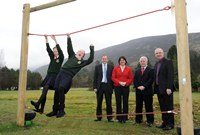 The beauty of Silent Valley in the heart of the Mournes has been further enhanced by the addition of new facilities which will create a visitor experience to remember.
Officially launched by the DRD Minister, Danny Kennedy, MLA, and the Tourism Minister, Arlene Foster, MLA, the Park now offers visitors a full range of facilities, including an interactive visitors centre which highlights the hardships, challenges and sacrifices made by the workers of the time. Voice recordings of the original workers and a replica of Bignian Tunnel also help transport the visitor to a bygone era.
Danny Kennedy said: "While the Silent Valley Reservoir is a place many people may associate with providing drinking water, these new facilities help put this area of outstanding natural beauty and engineering achievement on the map as a compelling visitors' attraction.
"This project is an excellent example of government agencies and public bodies working in partnership to provide a unique day out which will increase visitor numbers and attract tourists to the Co Down area."
Sean Hogan, Chairman of NI Water:
"NI Water was delighted to work in partnership with other bodies to allow the beauty of this site to be developed and enhanced for visitors. Our primary focus is managing the site, including the reservoir, which is the largest in Northern Ireland, holding over 13,000 million litres of water and stretching over 2.5 miles, providing water to over 200,000 customers on a daily basis.
"However, it really is a hidden treasure. The new facilities will enable the visitor to truly appreciate the beauty of the Valley while the centre itself captures a time gone by and allows us to glimpse into the life of workers during the years of the Reservoir construction."
This project received investment from NITB and SOAR under the Rural Development Programme. Other organisations involved are the Mourne Heritage Trust and Newry & Mourne Council.
New information leaflets detailing the facilities available at the Park are available on the NI Water website and are distributed to the visitor on arrival.