Completion of £500,000 Investment in Pumping Station at Clabby Rd, Fivemiletown
30 September 2016 15:32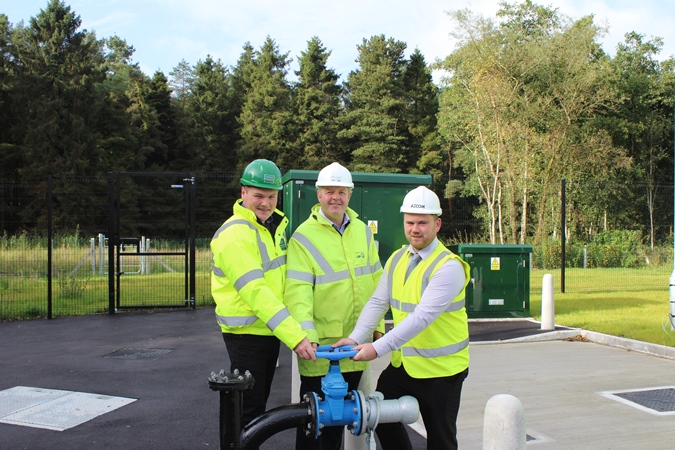 NI Water has recently completed work on a new Wastewater Pumping Station at Clabby Road, Fivemiletown. The project involved replacing the existing Pumping Station to increase capacity and allow for future development in the area.
The new underground Wastewater Pumping Station was constructed on the same site as the existing station and a section of sewage pumping main close to the station was also replaced as part of this investment.
Peter Ferguson, NI Water Senior Project Manager said:
"The new Pumping Station and associated improvements are good news for customers in the local area, as the project will reduce the likelihood of out of sewer flooding and bring about environmental benefits in the area, such as improving water quality in the local watercourse.
"NI Water and our project team including GRAHAM Construction and AECOM would like to thank the local community for their patience and cooperation while we completed this essential improvement scheme."
Infrastructure Minister Chris Hazzard said: "This £500,000 investment is good news for people in the Fivemiletown area. It will greatly improve their sewerage infrastructure and wastewater services. The completion of this scheme will also ensure that NI Water meets key environmental standards.
"Providing high quality public services and ensuring that as a society we can live and work sustainably whilst protecting the environment are all included in the Programme for Government. Projects like this which directly improve people's daily lives will put in place the infrastructure needed for this generation and the next and will help to deliver a prosperous economic future for everyone."
Ends
All media enquiries to NI Water press office at
press.office@niwater.com
or phone 02890 357695
Photo Caption: (L-R): Mark Little GRAHAM Construction, Peter Ferguson NI Water Senior Project Manager, and Ciaran Fitzgerald AECOM pictured at the new Clabby Road Pumping Station.