Major Water Pipeline Scoops Top Prize at Construction Excellence Awards
25 October 2016 15:43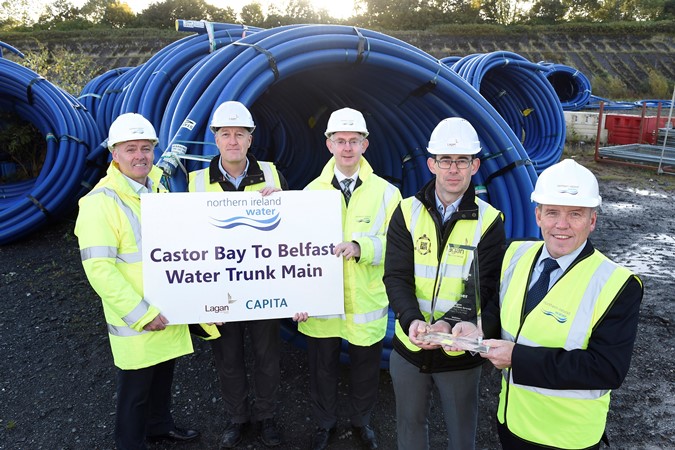 NI Water's contractor, Lagan Construction Group recently scooped a prestigious CEF – Construction Excellence award, in recognition of their work on the £14 million Castor Bay (Craigavon) to Belfast Water Pipeline.
The winning project involved an extensive programme of improvements as Bill Gowdy Director of Engineering Procurement at NI Water explains:
"The recently completed Castor Bay to Belfast Water Trunk Main is an essential pipeline which provides a vital source of water coming into Belfast. This major programme of work has improved the security of the water supply infrastructure for our customers in Belfast and Lisburn, as well as having a positive effect on the water quality.
"The scheme also involved improvements at local service reservoirs and water Pumping stations in Craigavon, Lisburn and Temple and close cooperation with customers and indeed all our stakeholders was key to the success of the project.
"I would like to congratulate Lagan Construction Group, who have extensive experience of major water infrastructure projects throughout Northern Ireland, on winning this prestigious award."
Sean McGlinchey Senior Project Manager, Lagan Construction Group added:
"We at Lagan Construction Group are delighted to win this CEF award, which is a great opportunity to showcase the Castor Bay project amongst the best of the construction industry in Northern Ireland and to celebrate the industry's achievements and highest standards of construction.
"The project was one of the highest profile trunk main projects undertaken by NI Water in recent times. The pipeline was laid through a vast area from Craigavon to South Lisburn, where community engagement was key to ensure the smooth delivery of the project. The scheme will safeguard the water infrastructure when it is particularly vulnerable, particularly over the winter months."
Ends
All media enquiries to: press.office@niwater.com or telephone 028 9035 4757.
Pictured with the award at NI Water's pipe store at the Westland Road Head office are: (L-R) Martin Gillen NI Water, Leslie Boyd Lagan Construction Group, Paul Davison NI Water, Sean McGlinchey Lagan Construction Group, and NI Water's Bill Gowdy.