£6m Ballydougan to Newry Water Improvement Scheme Complete
13 December 2016 11:40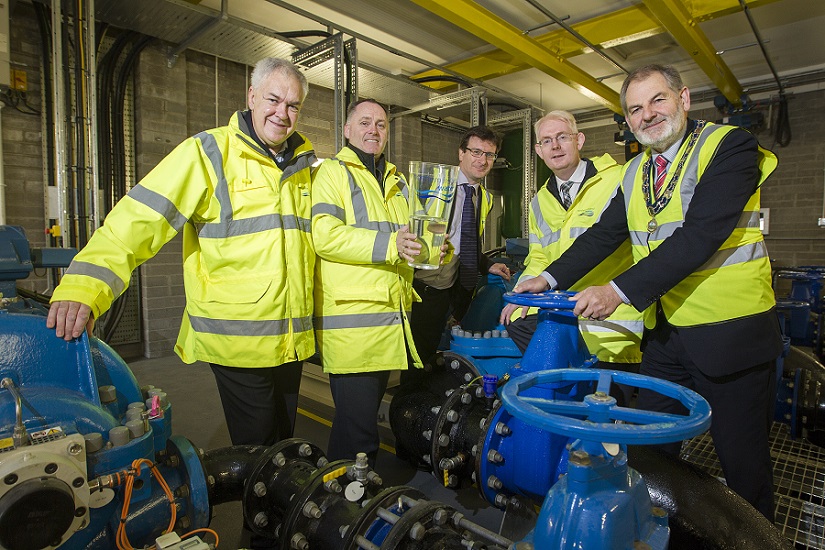 NI Water is pleased to announce the completion of the £6m Ballydougan to Newry Trunk Main and overall Water Improvement Scheme, which is a major investment to upgrade the water storage and supply network for customers in Newry city and surrounding areas.
This overall programme of work included extensive upgrade work at Crieve Service Reservoir, located off the Fort Hill Road, where the existing 0.4 mega litre tank was replaced by a new 4.2 mega litre reservoir. This significant upgrade will improve storage and security of the water supply for local customers.
Also included in this major package of improvements is the refurbishment and extension to Carnbane Water Pumping Station and Cullyhanna Water Pumping Station (WPS).
The project involved essential upgrade work at a number of sites including Camlough Water Treatment Works (WTW), Newry West Service Reservoir, located to the east of Newry off the Camlough Road and Camly Service Reservoir, located 2km south of Newtownhamilton.
Finally, two new trunk mains were also completed as part of this upgrade package to facilitate the transfer of water. The Camlough to Newry West Trunk Main is a major 3.5km pipeline going from Carnbane WPS to Camlough WTW and Newry West Service Reservoir. The Crieve Trunk Main is a 3km pipeline which extends from Annsville to Crieve Service Reservoir.
Infrastructure Minister Chris Hazzard welcomed the completion of the scheme:
"The Ballydougan to Newry Water Improvement Scheme represents a major £6 million investment by NI Water to significantly improve the security of supply and quality of water for customers in Newry and the surrounding area.
"This major scheme will be especially important in supplementing increased demand in the area, particularly during winter periods or emergency situations when the infrastructure may be particularly vulnerable."
Councillor Garth Craig Deputy Chair of Newry, Mourne and Down District Council commented:
"Newry, Mourne and Down District Council is pleased to view some of the improvements made here at Carnbane Pumping Station and welcome the improvements and benefits the scheme will bring to Newry and the surrounding area. This major investment is good news for customers in the area, as it will improve the security of the water supply infrastructure."
Paul Davison, NI Water Project Sponsor added:
"We at NI Water are pleased to announce the completion of this major investment project, which is essential for the continued security of the local water supply. It will also ensure that NI Water continues to meet key Water Supply and EU Drinking Water Quality directives."
This project is just one example of our continued commitment to delivering safe, clean drinking water to homes and businesses across Northern Ireland and supplying customers with approximately 559 million litres of good quality drinking water every day.
"I would like to take this opportunity to thank our customers and local representatives for their patience and cooperation throughout the overall project."
The construction work was completed by BSG Civil Engineering, with Capita providing Project Management and Cost Management support.
Photo caption 1 (L-R) Declan Mathers, Martin Gillen, Brian McCalmont, Paul Davison and Councillor Garth Craig Deputy Chair of Newry Mourne and Down Council.
Ends
All media enquiries to:
press.office@niwater.com
or telephone 028 9035 4757.