£2 Million Carland to Cookstown Water Trunk Main Project Complete
22 December 2016 16:08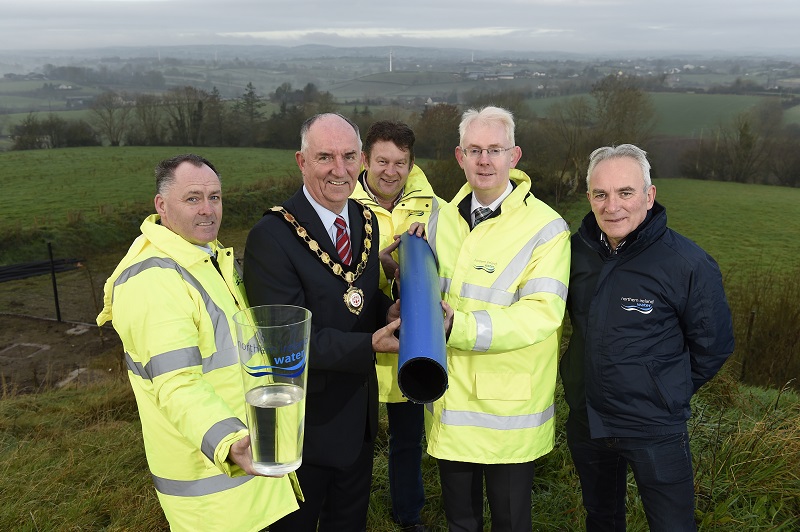 NI Water is pleased to announce the completion of a new £2 million water pipeline – the Carland to Cookstown Water Trunk Main in County Tyrone, which will improve the local water supply infrastructure, as well as the security of the water supply in Cookstown and the surrounding areas.
This project, which got underway in Autumn 2015 involved the construction of 11km of water pipeline from Carland Service Reservoir (off the Annaginny Road, Dungannon) to the Sandholes Road in Cookstown. The main route was along the busy A29 Dungannon to Cookstown Road.
Infrastructure Minister Chris Hazzard welcomed the completion of this important pipeline:
"The completion of this £2million investment is good news for customers in Cookstown and the surrounding areas by improving the local water supply infrastructure and security of supply. The contract also provided a welcome boost to the local construction sector.
"Providing high quality public services helps to create a place where people want to live and work, to visit and invest which are both key outcomes in the Programme for Government. Projects like this which directly improve people's daily lives will put in place the infrastructure needed for this generation and the next and will help to deliver a prosperous economic future for everyone."
Councillor Trevor Wilson, Chair of Mid-Ulster Council added:
"Mid-Ulster Council welcomes the completion of this important pipeline, which will bring many benefits to customers by enhancing and protecting the local water supply infrastructure. The pipeline will be particularly important during future winter periods and other emergency situations when the infrastructure may be particularly vulnerable."
Paul Davison Head of Water Capital Delivery, NI Water commented:
"We at NI Water are committed to improving the water supply network throughout Northern Ireland and are delighted that this major investment to improve the water supply network for our customers has now been completed.
"Collaborative working, careful planning with TransportNI and other utilities and stakeholders, as well as a proactive approach to communications with the local community ensured that the project ran smoothly with minimal disruption in the local area.
"I would like to take this opportunity to thank our customers and local representatives for their patience and cooperation throughout the overall project."
Dawson WAM was the contractor for the scheme, with McAdam Design providing design and technical support.
Ends

For further information, please contact NI Water's Press Office on 02890 354710 or email press.office@niwater.com
Photo caption (L-R) Bobby O'Kane, Martin Gillen, Gary McFadden (all NI Water), Councillor Trevor Wilson, Chair of Mid-Ulster Council, Willie Dornan McAdam Design, Paul Davison NI Water and Rodney Moates Dawson WAM.