NI Water Awards £100 million Water Improvement contract to 4 Local Companies
05 April 2017 11:53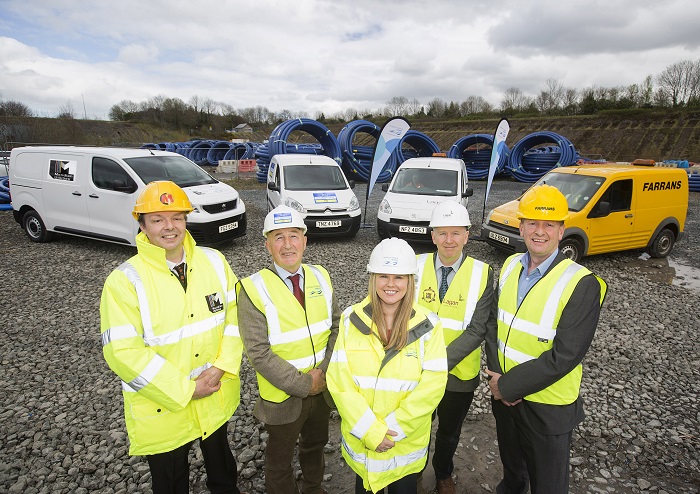 NI Water has awarded a major new £100 million water improvement contract to four local companies: Maghera based company, BSG Civil Engineering, Dunmurry based Farrans Construction and Belfast based companies Lagan Construction Group and Meridian Utilities. The 4 contractors will be improving the watermains infrastructure throughout Northern Ireland over the next four years, improving the reliability and security of the water supply as well as improving water quality.
As NI Water marks a decade of delivery this month, investing £1.8 billion in water and wastewater services over the past ten years, this programme of work will deliver what matters for our customers by improving the water supply network. The project will also assist in supporting a growing economy by boosting employment in the four companies, as well as local sub-contractors.
Sara Venning, NI Water's Chief Executive commented:
"This is one of NI Water's largest contracts, which will deliver major improvements to the watermains infrastructure throughout Northern Ireland. We are confident that the contract will provide excellent value for money for NI Water, while meeting our own ambitious targets of upgrading approximately 150km of watermains per year. The scheme will bring many benefits by improving water quality and security of the water supply, as well as the environmental benefits such as reducing leakage.
"We at NI Water look forward to working successfully with our four partners to deliver a sustainable, robust and reliable water supply network for the future and will continue to deliver an excellent service for our customers."
ENDS
(L-R) Terry McCrum Meridian Utilities, Seamus Gillan BSG Civil Engineering, Sara Venning CEO NI Water, Terry McCrum Meridian Utilities, Paddy Harney Lagan Construction Group and John Murphy Farrans Construction marking the award of this major £100 million contract.
For further information, please contact NI Water press office on 02890354710 or email press.office@niwater.com