What a Busy Bus!
29 June 2017 15:53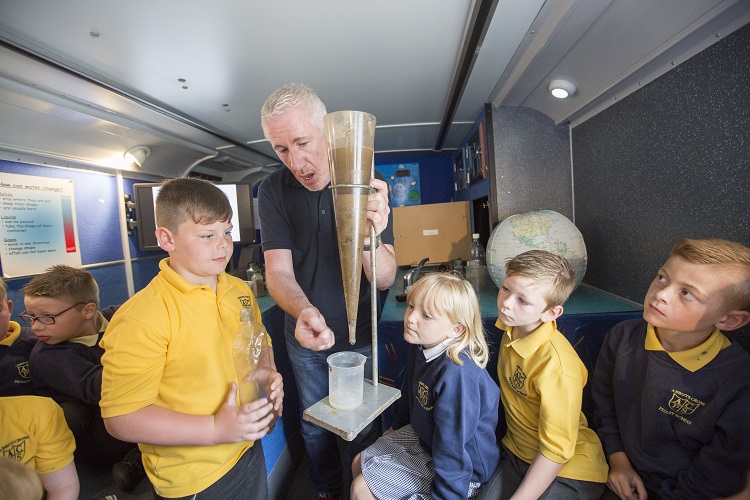 The NI Water double decker Waterbus has travelled the distance from Belfast to Beijing this school year!! The busy bus has clocked up 4,971 miles travelling across Northern Ireland visiting local primary schools. That's a distance that would take nearly 89 hours – or over three and a half days – to drive, assuming you were doing it non-stop.
Along the way, NI Water's famous big blue Waterbus visited 162 schools across all counties and council areas, in cities, towns, villages and rural areas, and nearly 15,000 pupils since September in another record-breaking year.
The year also saw another milestone for the Waterbus – in March, the 100,000 pupil mark was passed, representing a tremendous achievement in delivering what matters for our future generation of water users over the ten years that the bus has been visiting schools across Northern Ireland.
Anna Killen, NI Water's Environmental Education and Outreach Officer, said: ''It's been a momentous year on the Waterbus, as we've had our busiest year yet, as well as passing the milestone of 100,000 pupils!
''The miles clocked up as we travel from place to place are significant, and serve to demonstrate the wide appeal of the Waterbus, as do the ever-increasing numbers we speak to every year.
''It's been particularly special this year, as NI Water has marked a Decade of Delivery, ten years of delivering what matters in terms of health, the economy and the environment right across Northern Ireland. The Waterbus plays its' part in spreading that message to our audience, and it's wonderful to help school pupils get a greater understanding of water, how it's cleaned and how we all need it every single day. What's more, they can then carry those messages home with them, thus educating other family members.
''We are very proud to be the only utility company in Northern Ireland with a mobile learning environment like the Waterbus, and we are delighted to go from school to school to spread the word about water. We continue to be overwhelmed at the sheer popularity of the Waterbus, with new bookings arriving constantly! We are delighted with the reputation it has come to enjoy as this goes to prove that the work we do on the bus is delivering what matters to today's pupils and our future generation of water users.
''Of course, the Waterbus isn't our only educational outlet – we're also delighted to welcome schools on a visit to a functioning sewage works in Belfast and to the glorious beauty of Silent Valley in the heart of the Mournes, the source of the drinking water for much of Belfast and County Down. We also regularly visit classes in primary and post-primary schools to talk about our use of water and what we can all do to conserve it.''
''We're looking forward to clocking up even more miles from September, when the Waterbus will hit the roads again!''
The programme is aimed at Key Stage 2 and designed to complement a key element of the Northern Ireland Primary Curriculum - the 'World Around Us'.
A teachers' learning pack, with further classroom activities is available to download from www.niwater.com/education.
ENDS
For further information, please contact NI Water's Press Office on 028 9035 4757 or email press.office@niwater.com.
NOTES TO EDITORS
NI Water's education programme is delivered by experienced Education Officers, and is tailored to the Northern Ireland school curriculum.
The Waterbus is a long term investment by NI Water in educational development for the local community.