Ballymena, you need to Bag it and Bin it!
14 November 2017 15:57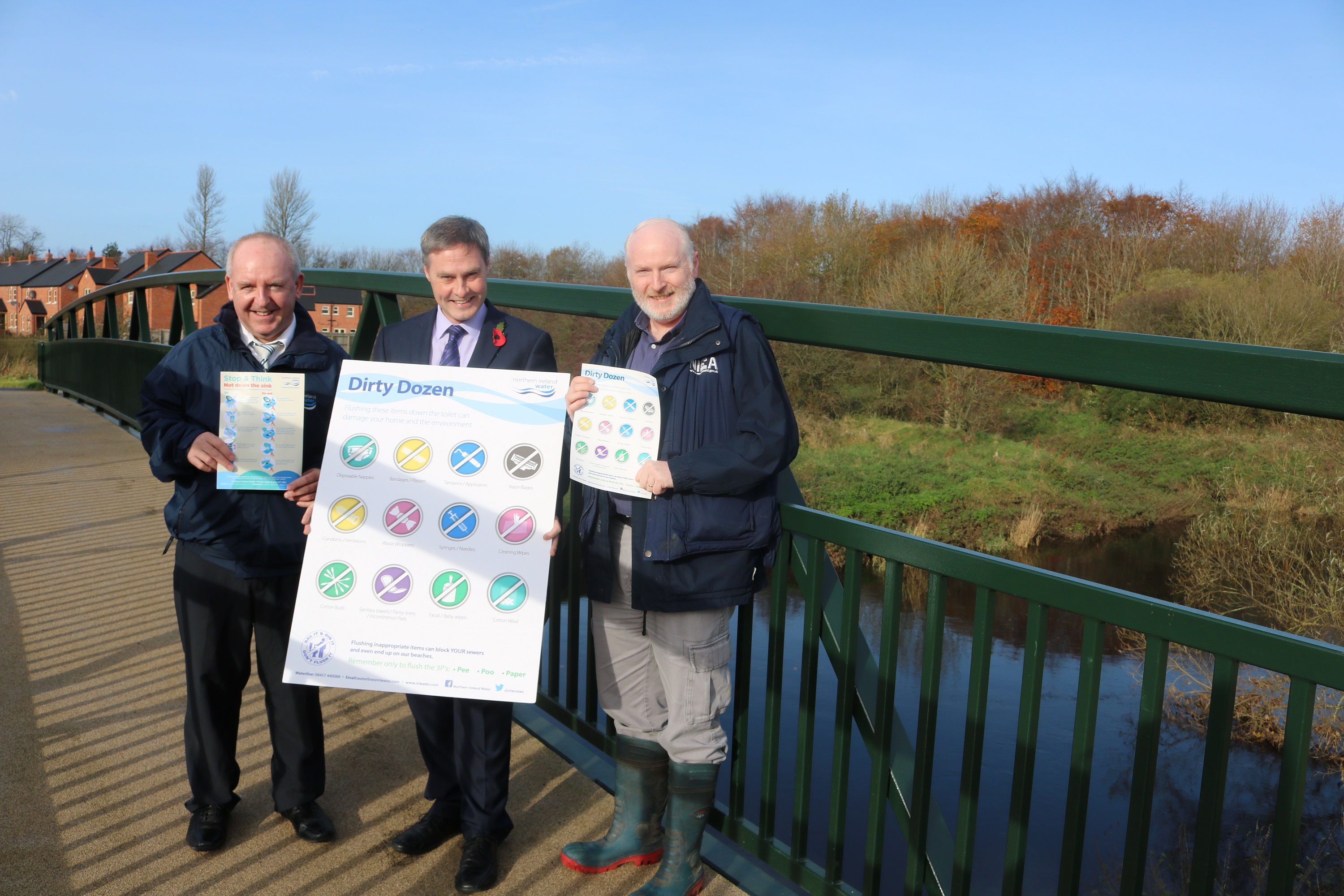 NI Water met with local MLA Paul Frew and NIEA to discuss recent pollution at the River Braid close to the ECOS centre in Ballymena.
Brian Donaghy, Customer Manager for the area explains, "This location has unfortunately suffered out of sewer flooding before and the primary cause is a blockage of inappropriate items. This means these incidents are avoidable but if our customers in the area keep flushing wipes and sanitary products then unfortunately, this will happen again.
"NI Water is working to ensure this doesn't happen again, having carried out repairs to the sewer and distributed advice to the surrounding homes. However, we cannot win this battle on our own, customer awareness and behaviour change is the only real way to address sewer misuse. The advice is to only flush the 3 p's – pee, poo and paper; everything else needs to go in the bin. That includes the wipes that say flushable!"
The same goes for FOG, instead of pouring it down the sink (this includes rinsing off cooking trays) scrape it into the bin or into a bottle for recycling.
Paul Frew MLA for the area comments, "I have been active on this issue for a while now, working in conjunction with NI Water and NIEA to resolve it. I am confident NI Water is doing what they can to manage this situation but it needs to be a combined effort that we all play a part in. I would appeal to the people of Ballymena to only flush toilet roll."
Kevin McGrady Emergency Pollution Officer at NIEA also attended today's meeting, "A significant number of water pollution incidents that occur from the sewerage network are related to overflows to local waterways due to blockages which are caused by the flushing of these inappropriate items. These overflows can impact directly on water quality and can also have a negative impact on the aesthetic quality of our rivers and coast. NIEA fully supports NI Water's campaigns which are acting to change behaviour, resulting in environmental improvement."
NI Water has invested millions over the last 10 years to bring the sewerage network system and wastewater treatment works up to an acceptable standard.
By the year 2020, NI Water will have invested £3 billion into local water and wastewater infrastructure.
ENDS
All media enquiries to NI Water press office 028 9035 4710 or email press.office@niwater.com.