£7 Million NI Water Renewable Energy Scheme gets Underway in Antrim
20 November 2017 16:23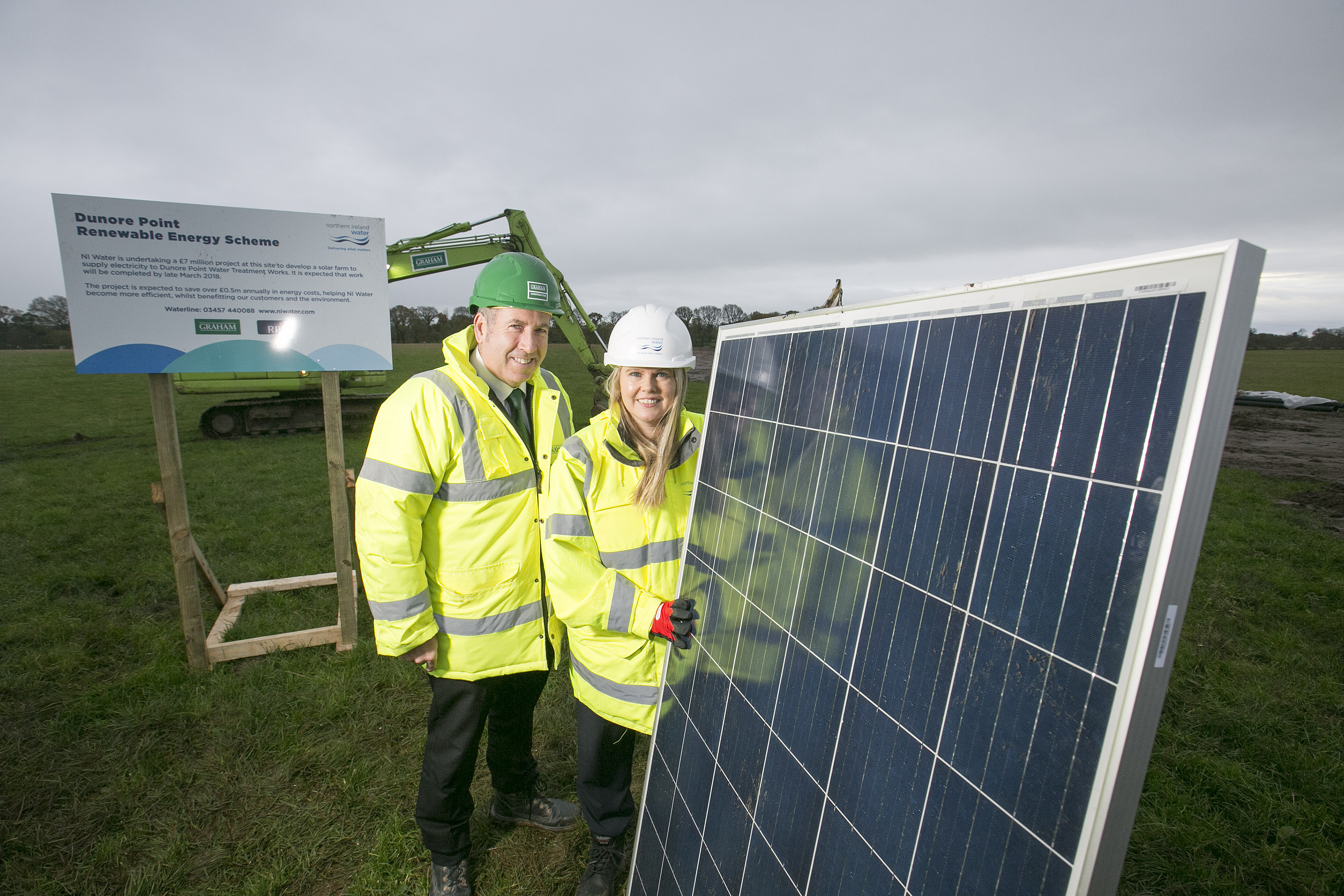 NI Water has commenced work on developing a solar farm to supply electricity to its Dunore Water Treatment works in South Antrim.
The £7million project will involve work on a 33 acre site on the eastern shore of Lough Neagh and when completed will produce a peak output of 4.99 megawatts and is expected to save over £0.5m annually in energy costs to the company.
As well as meeting the energy needs of the Dunore WTW the project will also enable the company to contribute spare capacity to the grid.
NI Water is the provinces largest user of electricity and Dunore is its third largest site in terms of energy consumption accounting for 7% of the company's annual usage.
Commenting on the announcement the company's CEO Sara Venning said:- "As the largest user of electricity in N. Ireland, we are committed to limiting our impact on the environment. NI Water expects to increase our electricity consumption from renewable sources from currently around 13% to 40% in 2020/21. This project will make a significant contribution towards our ability to achieve that stretching goal."
Approximately 30 people will be employed from local firm GRAHAM Construction throughout the contract, providing a welcome boost to the local construction sector. It is expected that all work will be completed by March 2018.
Ms Venning went on to say:- "NI Water recognises the opportunity that recent and future change in the electricity market and associated technologies represent. The Dunore Solar Farm is an important element in our strategy to deliver benefit for our customers and environment."
NI Water has reduced its annual expenditure on electricity by £5 million over the last three years and it is expected that electricity from a renewable source at the Dunore site will contribute to their efforts to keep expenditure on energy at the lowest levels possible. At the same time it will assist the company in achieving the strategy outlined in its PC15 business plan which aims to see it reduce the production of greenhouse gases from operations and become more energy efficient.
- Ends -
Notes to editor:
All media enquiries to NI Water Press Office on 028 9035 4710 or email press.office@niwater.com