NI Water Invests £1m to Upgrade Watermain Supplying Fermanagh Reservoirs
29 March 2018 16:59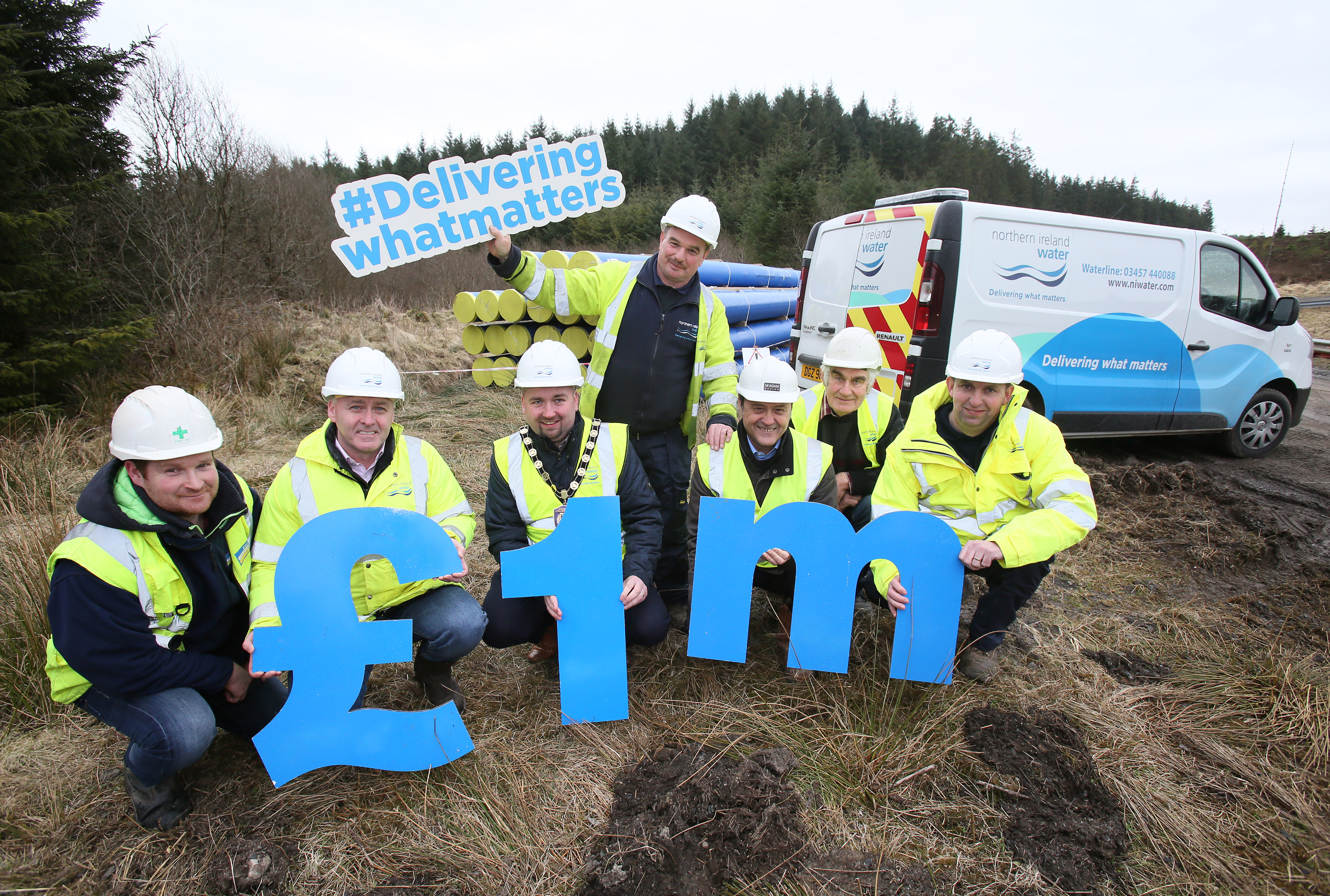 To coincide with World Water Day which took place on the 22nd March, NI Water is pleased to announce the completion of the first section of a 3.5km watermain between Ally Hill Service Reservoir (SR), on the outskirts of Lough Bradan and Doochrock SR near Ederney, as part of a million pound investment to improve and safeguard the local water supply.
The new upsized watermain will replace the old cast iron pipe which runs through Lough Bradan Forest and along Glen Road and Mweelbane Road.
The first section in the forest – which to improve future access is being laid along a cleared fire break away from the overgrown path of the old pipe – is now complete. Work on the roads is due to get underway after Easter followed by a final short section in the forest in May.
To ensure that pipelaying is undertaken in the safest possible manner along the roads, NI Water's contractor, BSG Civil Engineering will need to implement temporary road closures.
Martin Gillen, NI Water Project Manager said:
"This larger diameter watermain is being laid to provide a more robust means of transporting water from Lough Bradan Water Treatment Works to a number of storage reservoirs in the area, including Doochrock, Drumkeeran, Largy and Drumharvey, which in turn supply much of the North/North West and East of Fermanagh.
"Unfortunately due to the narrowness of local roads, it will be necessary for our contractor to implement short road closures to ensure the highest levels of health and safety for both workers and the general public.
"The first section of road affected by pipelaying will be part of the Glen Road – from 143 Glen Road to its junction with Mweelbane Road – which will be closed to through traffic from Monday 9th April until Friday 4th May. The Mweelbane Road will then be closed from its junction with the Glen Road up to 161 Mweelbane Road from Monday 7th May for a week to facilitate pipelaying. Advance notification of the work will be erected in the area and letters will be delivered to residents living on these roads for whom access will be maintained at all times. We would kindly ask all other motorists to follow the diversions signposted.
NI Water and BSG Civil Engineering would take this opportunity to thank residents and the wider public for their patience and cooperation while we undertake this work which will accommodate future water supply demands and provide resilience during difficult operating conditions. Customer queries should be directed to Waterline on 03457 440088.
As proud partners of NI Year of Infrastructure 2018, NI Water is helping to raise awareness of how infrastructure underpins our lives. This £1 million investment, which will benefit the water supply infrastructure in the Fermanagh area is an excellent example of the importance of our infrastructure to help reduce the risk of flooding and protect the environment. For further information log on to Infra2018.org
Photo caption: Stephen Glackin BSG Civil Engineering, Martin Gillen NI Water, Councillor Stephen McCann Chairman of Fermanagh and Omagh District Council, Ricky Bratton NI Water, Willie Dornan, Alvin Edwards McAdam Design and Justin Donaghey from NI Water