Newcastle Wastewater Treatment Works upgrade hailed as 'excellent'
11 June 2018 16:07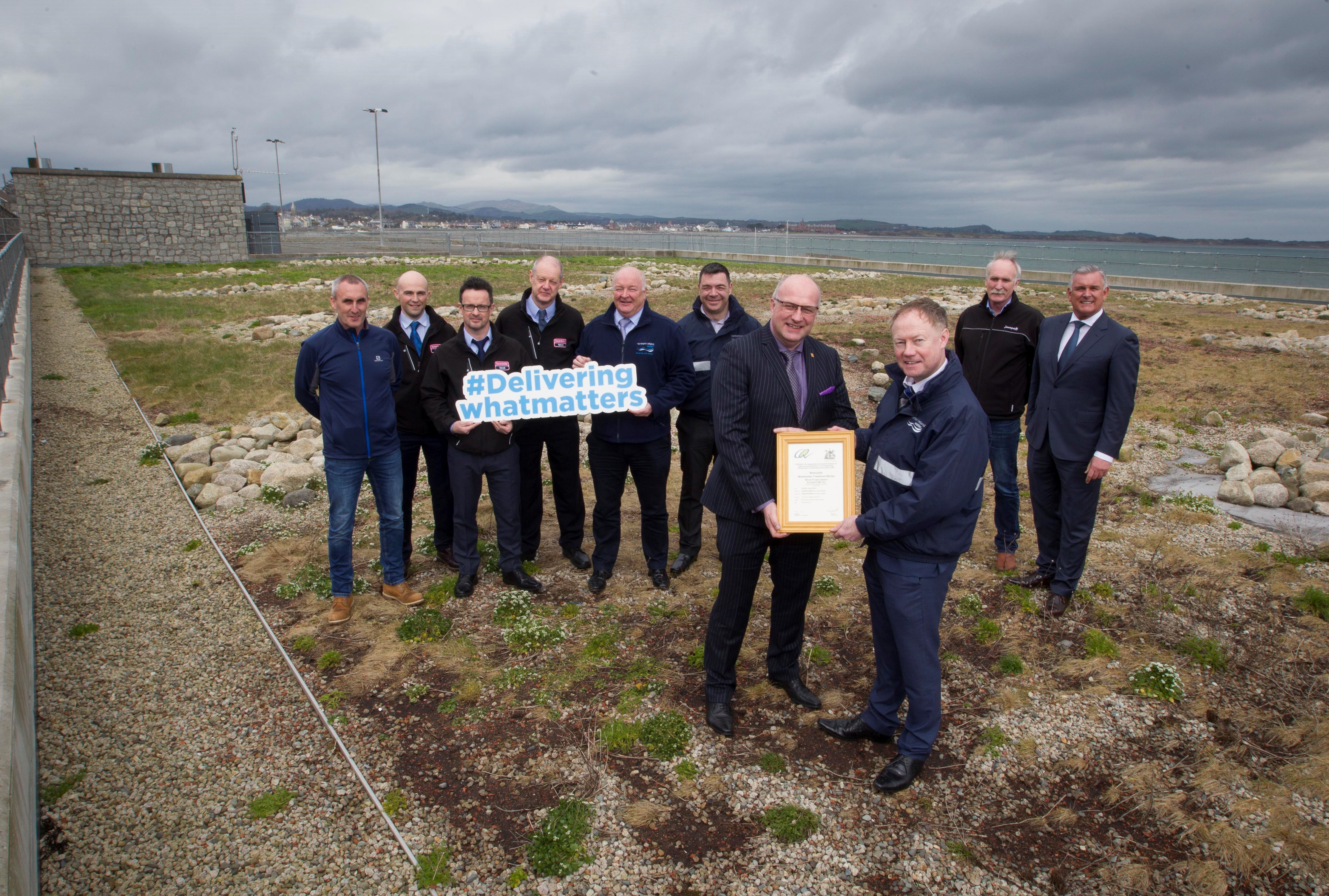 The NI Water contract team who completed a £10m upgrade at Newcastle Wastewater Treatment Works (WwTW) has been honoured with an 'excellent' CEEQUAL award for its engineering and environmental work.
CEEQUAL – the Civil Engineering Environmental Quality Assessment and Award Scheme – honours the commitment of those in the civil engineering industry that achieve high environmental, economic and social performance and rewards project teams that go the extra mile to accomplish distinctive environmental and social performance in their work.
The Newcastle team impressed the assessors with their approach to protecting and enhancing the environment during the complex build of a 2,000m2 extension into the Irish Sea within an Area of Outstanding Natural Beauty, a Special Area of Conservation and an Area of Special Scientific Interest.
The extension was fitted out inside with an advanced treatment process to meet new Bathing Water Regulations and future-proofed to accommodate population growth in the seaside town. Outside, the roof of the 50m-long concrete structure was sown out with a special mix of indigenous coastal seeds to provide a soft green area which not only offers a more attractive view for the overlooking properties, but which also provides a natural habitat for local birds and insects.
Visiting the Newcastle site recently to present the award, Ian Nicholson, CEEQUAL Technical Director, said: "I would like to congratulate the Newcastle WwTW project team in achieving an 'excellent' CEEQUAL Award. This accolade honours the commitment of NI Water, its consultants, McAdam Design and contractors Dawson-Wam Ovivo JV in completing this major project within a challenging coastal location whilst protecting and enhancing the local environment."
Accepting the award on behalf of the project team, Kieran Grant, NI Water's Project Manager for the scheme said: "This £10m project represents one of the most complex wastewater facility upgrades to be undertaken for NI Water in recent years. Located on the County Down coast, in one of NI's top seaside resorts, the Newcastle Wastewater Treatment Works Project presented NI Water and its contractor, Dawson-Wam Ovivo JV with numerous civil engineering, environmental and aesthetic challenges, all of which were overcome on a highly successful project fully embraced by client and contractor alike. We are delighted to receive this prestigious award which is a fitting tribute to the efforts of the entire design and construction team."
Photo caption: Kieran Grant from NI Water accepts the 'excellent' award from Ian Nicholson of CEEQUAL on behalf of the project team comprising NI Water, Dawson Wam Ovivo JV and McAdam Design for the £10m Newcastle WwTW upgrade.
Ends
All media enquiries to NI Water Press Office on 028 9035 4757 or email press.office@niwater.com