Please keep working with us, urges NI Water
01 July 2018 18:31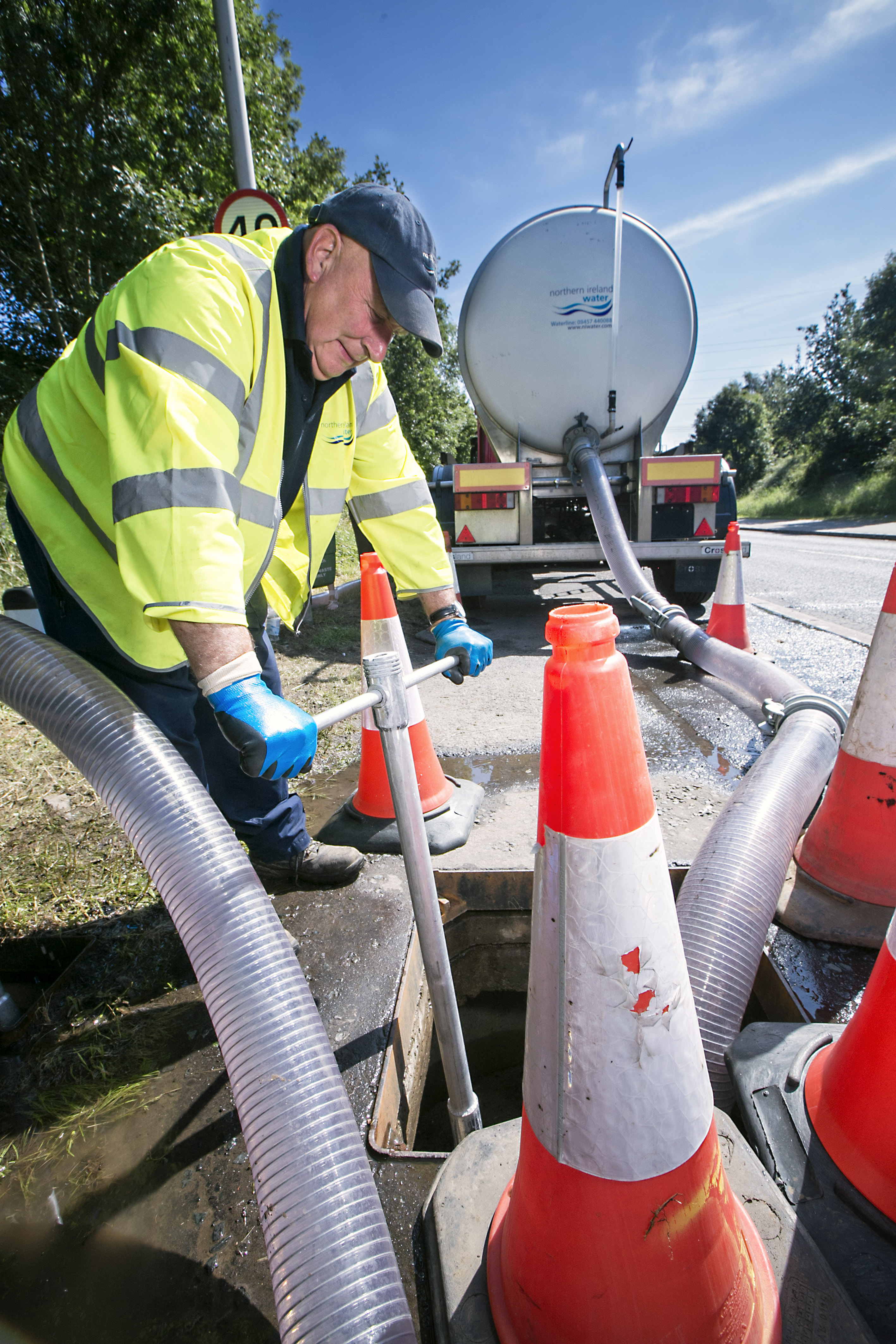 NI Water has thanked the public for their assistance in helping to reduce water usage but warned that demand is still 30% higher than normal.
The company's CEO Sara Venning comments, "We would like to thank all our customers who are working with us to limit their water usage. However, demand remains much higher than normal, particularly during peak times, so we are still struggling to get water around the system quickly enough
"By helping us, you are in fact helping yourself, as the ultimate penalty for using water unnecessarily is not a fine it is the heightened risk of widespread supply interruptions.
"We continue to maximise our water production and I am grateful to our dedicated workforce who are working continuously day and night to ensure we keep customers in supply. We have also been aided by a wonderful response from business who have supplied tankers to augment our own fleet enabling us to service reservoirs most at risk."
Customers in some areas, including parts of Lurgan and Coalisland, as well as other isolated rural high lying areas, have already experienced loss of pressure and intermittent supply failures.
ADVICE
Use tap water for the essentials, like drinking, cooking and washing.
The following activities are prohibited during this period:
Watering a garden using a hosepipe;
Watering outdoor plants on domestic or other non-commercial premises using a hosepipe;
Drawing water, using a hosepipe for domestic recreational use;
Filling or maintaining a domestic swimming or paddling pool using a hosepipe;
Filling or maintaining a domestic pond using a hosepipe;
Cleaning a private leisure boat using a hosepipe;
Cleaning a private motor vehicle using a hosepipe;
Cleaning walls or windows of domestic premises using a hosepipe;
Cleaning paths or patios of domestic or other non-commercial premises using a hosepipe;
Who the ban applies to – the hosepipe ban, for now, applies to domestic usage only. Business customers currently are not impacted as it is recognised they rely on water use for their livelihood and may already have water efficient systems in place eg, metering or water re-cycling systems. However, saying that, if any business can conserve water then please do so, every drop counts! We have already seen some businesses committing to turn off their sprinklers and only washing the windscreens, mirrors, lights and number plates of their vehicle fleets, which is beneficial to the wider community.
The rain – despite the many comments on how much rain we experience in Northern Ireland, we want to be clear that at the minute, we have plenty of untreated water (from previous rainfall stored in natural loughs and behind dams etc), the problem is the sheer amount of water people are using at the tap. Customers are using the water faster than we can treat it and get it into supply, please only use what you need to! We may be surrounded by water, but did you know that despite our planet being covered in water, only 1% of it is actually drinkable!
Building more reservoirs (which would take a few years!!) or using old ones that are out of service will not help us here.
Using watering cans – the hosepipe ban does not apply to the use of watering cans however, please consider that plants do not need watered every day or you could use some water saving crystals to retain the moisture or you could use the dish water from the sink! Consider putting hanging baskets etc into the shade for a day or two.
Be water wise around peak times: 7 - 9am and 5 - 8pm are the peak times for showering and bathing. Please consider taking a shower instead of a bath. Please turn off the tap when you are brushing your teeth or shaving.
In Summary - we would hope that people will voluntarily work with us to reduce their water usage over the coming days. A loss of water supply for households is a completely avoidable situation, however, if people continue to use water at the current rate, the loss of supply could become a reality. Unnecessary use of water i.e. washing cars, watering lawns etc, is putting the water supply of your own household and that of your neighbours at risk. If everyone simply uses the water they actually need, there will be plenty for everyone. By following the simple guidelines, this will negate the need to prolong the hosepipe ban with associated penalties.
We would strongly advise the public to adhere to this advice as ignoring it will only cause further strain on resources and could lead to interruptions to supply.
Customers can log on to niwater.com for further advice.
ENDS
All media enquiries to press.office@niwater.com