'Water' Lesson for St Patrick's Pupils
02 August 2018 11:52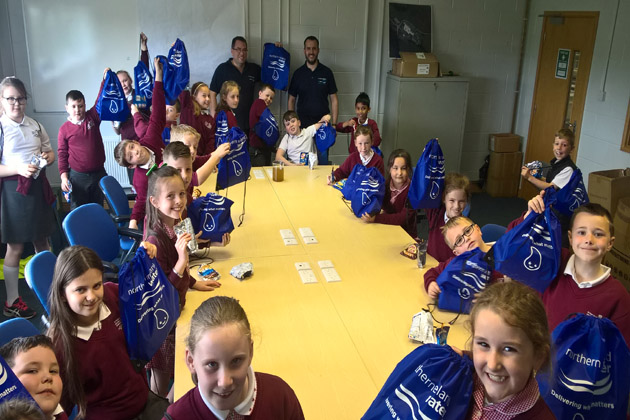 P5 pupils from St Patrick's Primary School in Castlederg recently enjoyed a tour of NI Water's Derg Water Treatment Works. They saw first-hand how NI Water supplies 570 million litres of high quality drinking water every single day.
Martin Glackin, Engineer from Asset Performance at NI Water comments,
"P5 Pupils first visited the plant last year and were so impressed, the school requested a repeat visit for the current P5 class. They were given a tour of the works where they learnt the history of the site and what it takes to operate on a daily basis."
"We talked through the Water Cycle and water treatment with animations so the children could understand what was happening below the surface of the water at each stage of the process. The pupils even built their own slow sand filters in class beforehand to gain first-hand experience."
"A quiz session at the end of the tour showed the pupils enjoyed their experience and learning ways to reduce water usage and how important it is to be waterwise, especially around times of low rainfall. One pupil's comment which stood out for us was that "water is like liquid gold".
The school thanked NI Water and were delighted to receive goodie bags handed out to the children, which included a swim bag, water bottle and a pen.
With 24 Water Treatment Works across NI, it is not just as simple as taking water from a reservoir and sending it down the mains to the tap; there is a very important and often complicated process in between to treat the water to ensure it is of the highest quality.
Derg Water Treatment Works was built in 2002 and replaced the old works a few hundred meters from the current site. It can treat up to 26.4 million litres from Rivers Derg & more recently, Strule. The works serves the Strabane & Omagh areas as well as supplying water into the Fermanagh area.
Ends
For further information and media enquiries please contact press.office@niwater.com or call 02890 357695