Water Winner
16 November 2018 12:19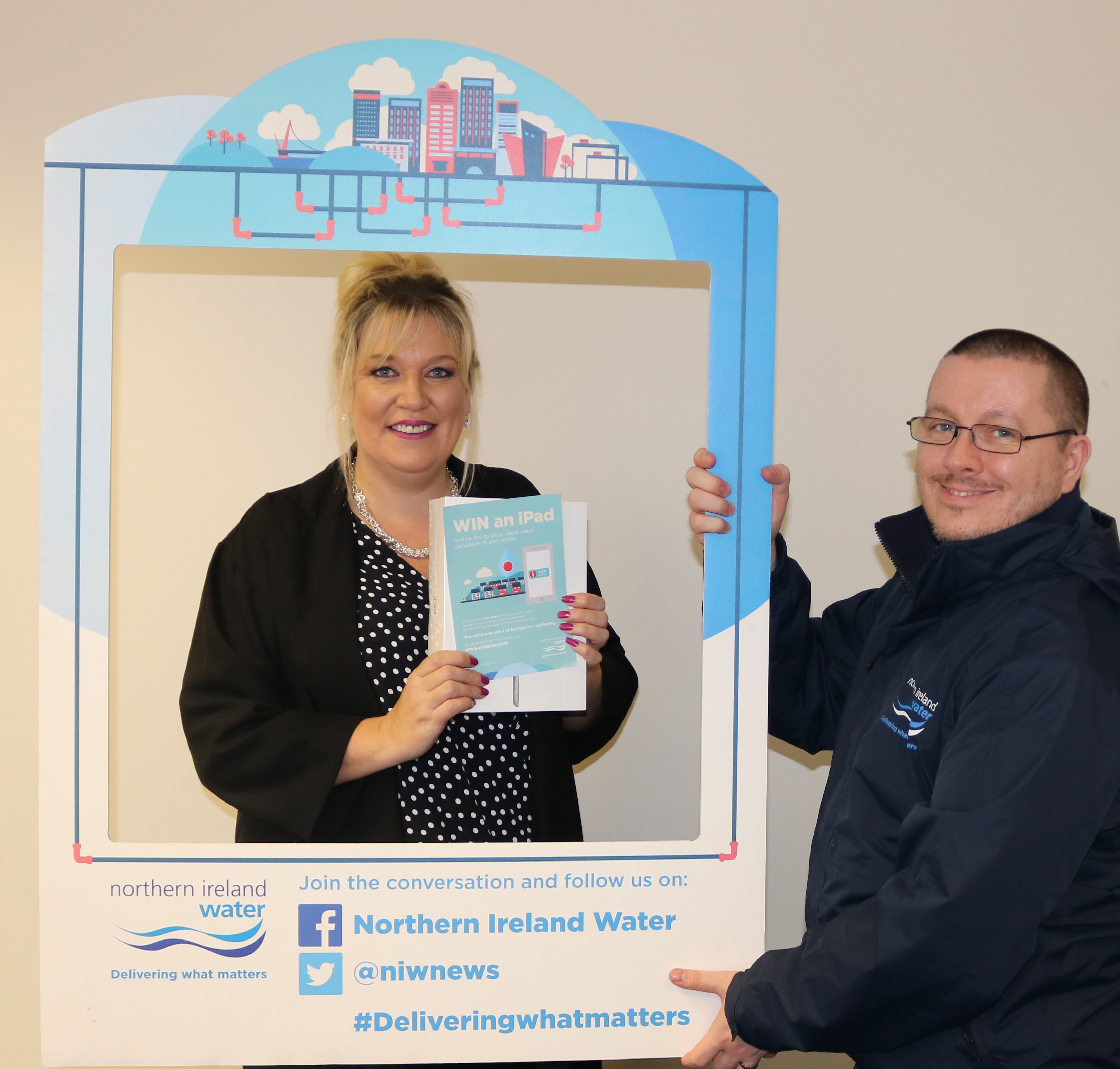 Jennifer Jackson from Bangor is the second winner of NI Water's competition to win an IPad.
The competition has been launched as part of a new text alert service offered by the company, which will send notifications of unplanned interruptions to the water supply straight to your mobile phone.
NI Water already have a postcode search facility online where customers can check current service updates. The text alert service will send a message directly to the customer and will include the estimated time of restoration as well as a link to NI Water's website for further details.
You will only ever be contacted in an emergency situation that might affect your property. NI Water's aim is to have the ability to contact all its customers, the more details we have, the more informed customers will be regarding their water supply.
To enter the competition, customers must register their details with us using the form on the NI Water website www.niwater.com or by following the link on our Facebook, Twitter, Instagram and Linkedin pages. You then have to answer a simple question; clue, the answer is on our website.
Competition closes at midnight on 28th February with two IPads up for grabs each month.
ENDS
For further information, please contact NI Water's Press Office on 02890 354710 or email press.office@niwater.com
Notes to Editor:
Customers are requested to register their mobile numbers as the most effective number to use for a text messaging system.
There is no guarantee that a text message will be sent to or can be delivered to a landline number if registered by the customer, though this can still be updated on our records.
Once the customer has completed the form, they must hit the button to register their details. This information is then captured and stored in a secure database. The next page of the form will tell the customer their registration has been successful and show the question that they must answer by selecting one of three options. It is possible to complete the registration form without answering the question, so customers must ensure they answer the question to enter the draw.
The form must be completed online Postal entries will not be accepted. Registering details over the phone with the CRC does not qualify as an entry to the draw, as the customer must answer the question on the website.
The online registration form/competition is open to existing and new domestic/ non-domestic customers, limited to entry one per individual and only one per address (see Terms). For Non-domestic Customers, multiple contact details may be registered with the main contact, however only the main contact may enter the competition. Additional contacts do not count as extra entries.
Customer Data is processed in accordance with NI Water's Privacy Policy (https://www.niwater.com/privacy/) which customers can read on the website.
An opt-out option has been added to text messages, however in the meantime, customers can still opt-out of receiving text messages by contacting Waterline using the details on https://www.niwater.com/contact/. This page will be updated with information relating to text message services in due course.
The volume of texts sent per customer can vary. Ideally, a customer will receive an initial message advising of a possible interruption to supply followed by a resolution message – advising the issue has been resolved.
Some customers are already receiving text alerts as their details were already available to us. However only customers who register online are eligible to enter the draw.