NI Water and Meridian deliver important safety messages to local school children
01 February 2019 13:22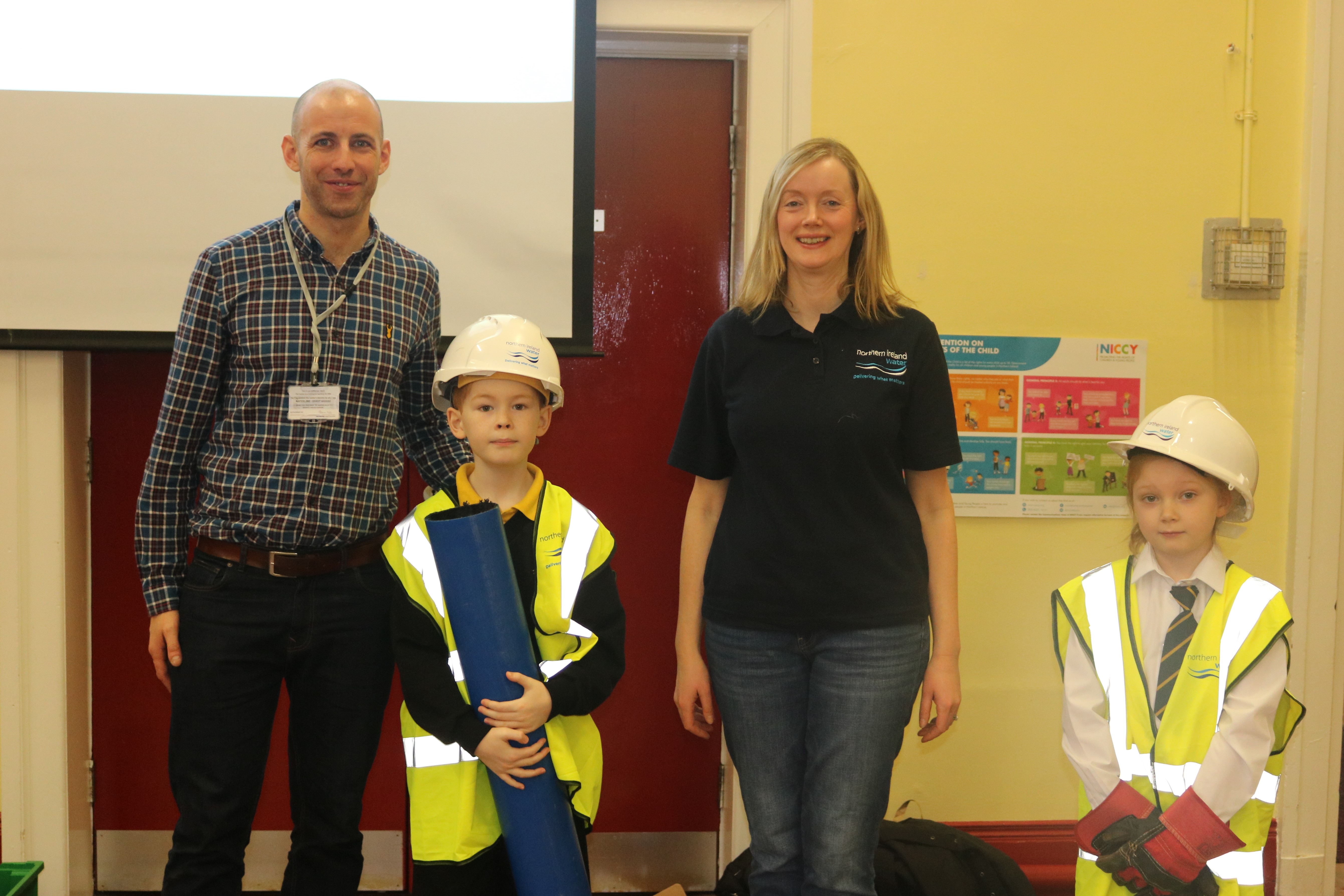 NI Water and their contractors Meridian, who are working to improve and upgrade the watermains in the Lurgan area, have visited Kings Park Primary School to deliver key messages about site safety and the importance of water.
Maurice Crawford NI Water's Project Manager said: "NI Water are always keen to spread the 'play safe, stay safe' message within local communities, especially where we are carrying out significant programmes of work like the current £2.4 million investment to upgrade the watermains in Lurgan.
"Many of the children in the area will be aware of the work and the team were delighted to talk to the children about the project and to make sure they are aware of the dangers of playing in or near construction sites or machinery."
"The visit was a great opportunity for NI Water to also talk about the importance of water and the little measures everyone can take to save water. The children listened so attentively and impressed us with their knowledge on the use of water!"
This £2.4 million investment in the wider Lurgan area is good news for customers as the upgraded watermains will improve the quality, reliability and security of the local water supply, while reducing leakage and improving pressure in the area.
The work will involve improving approximately 19km of watermains throughout the Lurgan area, initially focusing on the Silverwood Estate for the first 6 months of this programme. Work is progressing well in the Silverwood Estate and will complete in the summer months. The overall schedule of work will then progress throughout the wider area until March 2020.
NI Water has some simple steps on how to stay safe:
1. Don't climb on barriers and fences - They are there to protect you from serious injury and accidents when NI Water construction work is going on.
2. Stay away from trenches and open manholes - They are dirty, deep and dangerous. They may also contain hazardous gases.
3. Be careful near roads - never run out from behind parked vans or lorries as you could be knocked down and injured.
4. Keep clear of equipment - You may see diggers, lorries, pipes and other equipment, but don't be tempted - steer clear and don't touch!
5. Obey 'Danger' signs - reservoirs and treatment works can be very dangerous places, so stay well away and always obey the warning signs.
ENDS
Pictured are Rory Broughal from Meridian Utilities & NI Water's Christine McAllister with pupils from Kings Park Primary School.
All media enquiries to Press Office 028 9035 4710 or email press.office@niwater.com