We've been shortlisted!
18 April 2019 15:20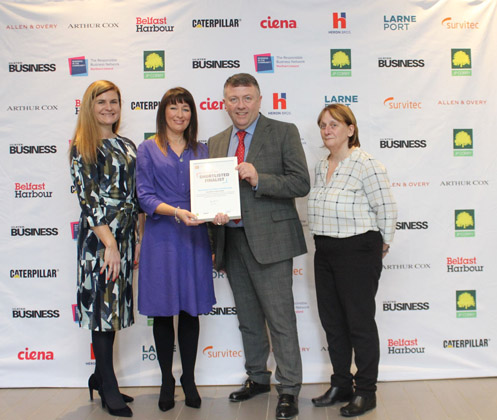 NI Water
NI Water is among 10 companies shortlisted for the Wellbeing at Work Award, part of the Responsible Business Awards in Northern Ireland
The Responsible Business Awards seek to recognise and reward firms in Northern Ireland that are embracing the journey to build better workforces, create a sustainable economy and healthy communities
The winner will be announced at a special black-tie event on Thursday 30 May at Belfast Waterfront Hall
Shortlisted in the Wellbeing at Work Award category, sponsored by Larne Port, NI Water has demonstrated excellence in inspiring and supporting its employees to prioritise their health and wellbeing and embrace positive lifestyle choices.
Alison Sweeney, Organisational and Development Partner at NI Water comments "We are absolutely thrilled that our Wellbeing at Work programme has been shortlisted in this category. I am incredibly proud of the work our employees have delivered on this wellbeing project to promote a healthier workforce.
"It is an exciting time to be part of NI Water, helping to implement its vision of delivering a world class service to its customers, its people and for the environment."
The annual awards, run by Business in the Community and supported by JP Corry and Ulster Business, seek to recognise and celebrate firms in Northern Ireland that are making a difference by taking practical action to address pressing social and environmental issues.
This year's award categories are:
NI Responsible Company of the Year, sponsored by Heron Bros.
Investing in your Communities Award, sponsored by Caterpillar
Responsible Digital Innovation Award, sponsored by Ciena
Diversity and Inclusion Award, sponsored by Legal-Island
Education Partnership Award, sponsored by Allen & Overy
Employability and Jobs Award, sponsored by Belfast Harbour
Environmental Leadership Award, sponsored by Arthur Cox
Responsible Product/Service Award, sponsored by Ciena
One-to-Watch Award, sponsored by Survitec
Wellbeing at Work Award, sponsored by Larne Port
Business in the Community NI's Managing Director, Kieran Harding, said: "Now more than ever, businesses are getting on with the job – demonstrating strong leadership and their commitment to their people, the planet and the places in which they are located. The Awards provide the perfect vehicle to showcase some of the best responsible business actions being taken by organisations here to ensure they are continuing to be a force for good in society.
"Once again, the calibre of entries for this year's Responsible Business Awards in Northern Ireland was exceptionally high, and our judges found the shortlisting process a challenge. I would like to take this opportunity to wish all finalists the very best of luck and we look forward to welcoming everyone to the gala awards dinner at Belfast Waterfront Hall on Thursday 30 May where the winners will be announced."
For more information visit www.bitcni.org.uk or call (028) 9046 0606.
Ends
Photo Caption: Pictured at the judging panel for the Wellbeing at Work Award on 10 April are [Pictured (L-R) Samantha Whann, Belfast Health & Social Care Trust, Alison Sweeney, NI Water; Damian McAlister, Ulster University and Sally Bonnes, Larne Port
Notes to editor
Media contact
Helen Bowman, Head of Communications, Business in the Community, Mobile: 07714 755312, helen.bowman@bitcni.org.uk
About Business in the Community
Business in the Community, the Responsible Business Network, is a business-led membership organisation made up of progressive businesses of all sizes who understand that the prosperity of business and society are mutually dependent. We exist to build healthy communities with successful businesses at their heart. Our members work together to tackle a wide range of issues that are essential to building a better society and a more sustainable future.
With almost 30 years' experience in Northern Ireland of mobilising business, we engage hundreds of businesses through our programmes driven by our core membership of more than 260 members here and over 800 organisations nationally which include small enterprises to global corporations.
The President of Business in the Community is HRH The Prince of Wales, the Chair of the Northern Ireland Board is Moya Johnston, Survitec, and Jeremy Darroch, Chief Executive, Sky plc is the national Chair of Business in the Community.
About NI Water
Northern Ireland Water is a Government Owned Company (GoCo), set up in April 2007 to provide the water and sewerage services in Northern Ireland. They supply 560 million litres of clean water a day for almost 1.8 million people as well as treating 320 million litres of wastewater a day.
The new data protection laws (General Data Protection Regulation) came into force on 25 May this year. We have updated our Privacy Statement to reflect these changes and you can view the updated statement here. If at any time you decide that you do not want to hear from us, then do let us know via return email and we will remove you from our mailing lists.