Water Catchment Partnership launch new Branding at Balmoral Show
14 May 2019 10:17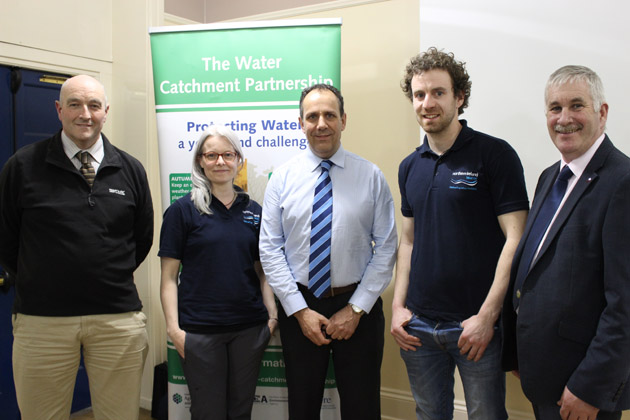 The Water Catchment Partnership are launching their new branding at the Balmoral Show.
The partnership was formed in 2013 to collectively deliver improved water quality in Northern Ireland. The Partnership includes representatives from the Ulster Farmers Union (UFU), Northern Ireland Environment Agency (NIEA), Department of Agriculture, Environment and Rural Affairs (DAERA), College of Agriculture, Food and Rural Enterprise (CAFRE) and The Voluntary Initiative.
The Partnership has gone from strength to strength with the aim being to deliver one message incorporating the ethos from all organisations to effectively collaborate, educate and encourage best practice protocols that protects our water and particularly drinking water. Our partnership approach has illustrated that everyone is part of the solution.
Come and visit us at stand H15 at the Balmoral Show between Wednesday 15 and Saturday 18 May.
ENDS//
Photo Caption: Robin Bolton (CAFRE), Rebecca Allen (NIW), Roy Taylor (NIW), Dominic McCann (NIW) and Victor Chestnutt (UFU).