DfI Deputy Secretary, Julie Thompson Visits Dungannon Wastewater Treatment Works
11 July 2019 11:34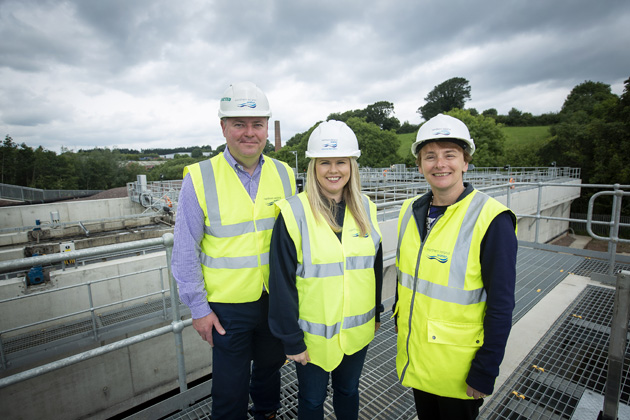 Northern Ireland Water's General Counsel and Company Secretary, Mark Ellesmere, NI Water CEO, Sara Venning, with DfI Deputy Secretary, Julie Thompson, on a tour of the upgraded Dungannon Wastewater Treatment Works (WwTW).
The Treatment Works received a £6.5million investment to install a state-of-the art treatment process known as Nerada®. This technology places the plant at the forefront of world class industry innovation, offering a low-energy solution for the treatment of both domestic and industrial wastewater. Set in the heart of an agri food hub, Dungannon WwTW receives over 60% of its influent from agri food traders. This £6.5 million investment will ensure NI Water can continue to serve these vital business customers in a way that protects the natural environment.
The visit was also a timely reminder that ongoing investment is necessary not just to maintain safe, clean drinking water, but also to address major sewerage issues across Northern Ireland that have arisen due to underfunding in past years.
Northern Ireland Water has assessed that it needs ca £2.5bn of investment in its water and sewerage networks over the next 6 years. Northern Ireland's continued economic growth and the protection of its outstanding natural environment from pollution is heavily dependent on the future level of funding made available to NI Water.
ENDS
For further information please contact press.office@niwater.com
Photo captions:
NI Water's General Counsel and Company Secretary Mark Ellesmere and CEO Sara Venning with DfI Deputy Secretary Julie Thompson at Dungannon WwTW
Group photo - Back row: NI Water's John Doherty, Mark Ellesmere, John Griffin, Gavin McCready, Eamon McManus and Dermott McCurdy
Front row: DfI Deputy Secretary, Julie Thompson with CEO of NI Water Sara Venning