Success of the Refillution with Newry, Mourne and Down District Council
08 June 2020 12:32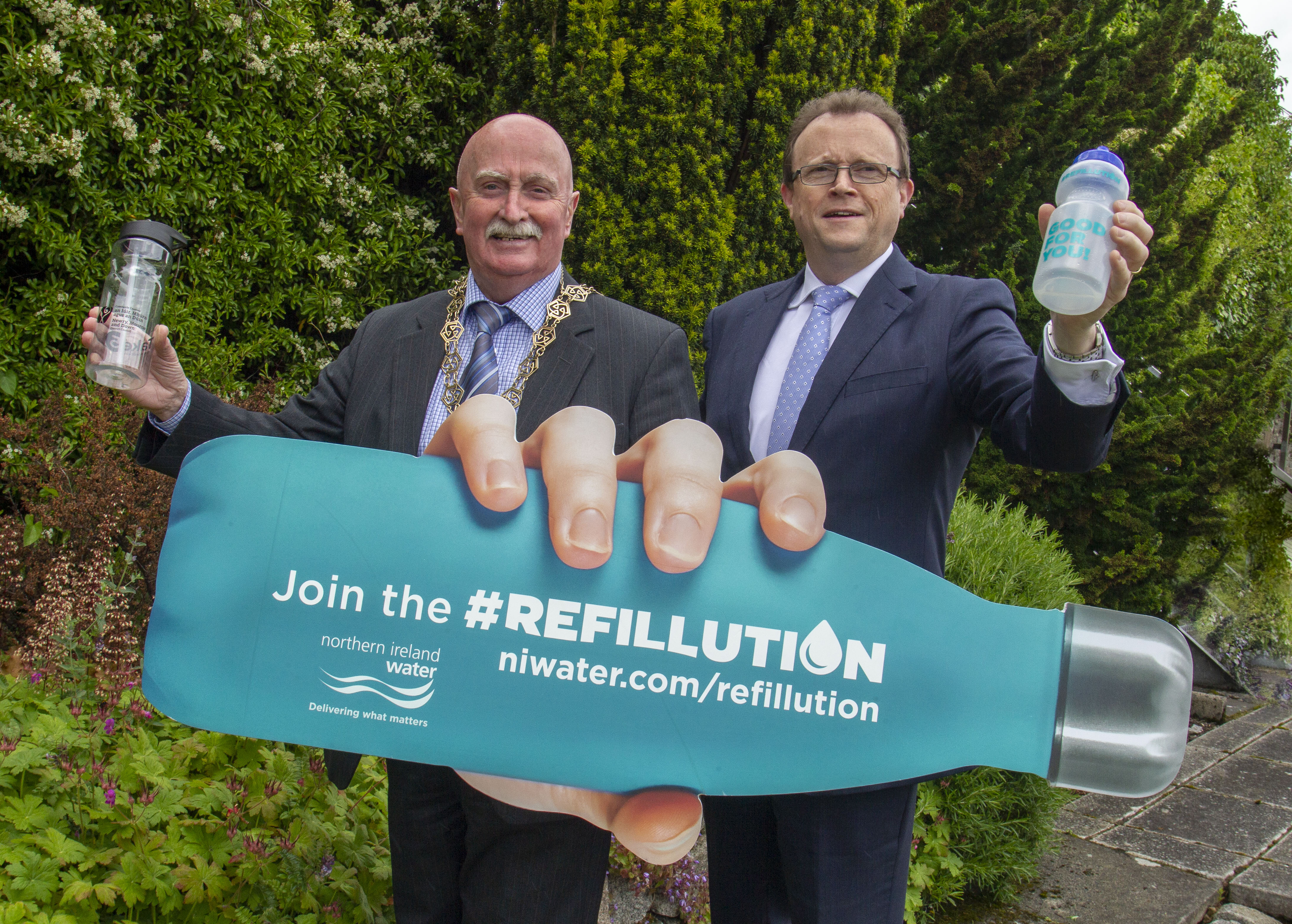 Newry, Mourne and Down District Council has confirmed its commitment to Northern Ireland Water's Refillution campaign after a year of helping to reduce the use of single use plastics.
Refillution is aimed at encouraging people to stop buying single use plastics and instead commit to refilling a reusable water bottle. Since its launch in May 2019, the Council has signed up 30 businesses across the district to a scheme in which they welcome any member of the public on to their premises to refill their reusable bottle with tap water. Council staff have similarly been provided with reusable water bottles to reduce the need for single use plastic bottle
Angela Halpenny, Northern Ireland Water, Head of Environmental Regulation, thanked partners in local councils, including Newry, Mourne and Down District Council, for their support of the campaign in its first year.
"The water industry has a strong focus on the environment and we are committed to tackling the problems caused by plastic bottles which block up our rivers and drains and pollute our seas," she said. "One year on following the launch of Refillution we would like to thank the Councils for their work in reducing single use plastic. In refilling a reusable bottle with tap water we are all helping to drive down our carbon footprint as well as reduce plastic waste."
The Council has also introduced a Single Use Plastics Policy and Strategy, with a wide range of actions to eliminate single use plastics from Council offices and activities. These include installing 15 drinking water fountains in public Council buildings for members of staff and the public to refill their bottles, banning the use of plastics in internal catering, and introducing clauses into the procurement of catering contracts to avoid the use of single use plastics such as plastic cups, plates, forks and spoons. Future actions will include eliminating single use plastics from events across the district and installing outdoor drinking water fountains at key locations.
In addition, the Council has undertaken several clean-ups across the district, including beach and river cleans, as well as continuing to support community groups and residents to carry out litter clean-ups in their area.
Newry, Mourne and Down District Council Chairperson, Councillor Charlie Casey said, "Newry, Mourne and Down District Council is pleased to continue to support Northern Ireland Water's Refillution campaign. Council staff have made a strong commitment to reducing the impact of single use plastic on the environment and look forward to working in partnership with communities, businesses and organisations such as NI Water to help protect our important and highly valued local environment here in Newry, Mourne and Down."
Get involved in the Refillution campaign on social media @JoinRefillution
For more details visit https://www.niwater.com/refillution/
ENDS
For more information please contact press.office@niwater.com
https://www.niwater.com/refillution/