Leaky loo? Here's what you can do!
25 September 2020 11:16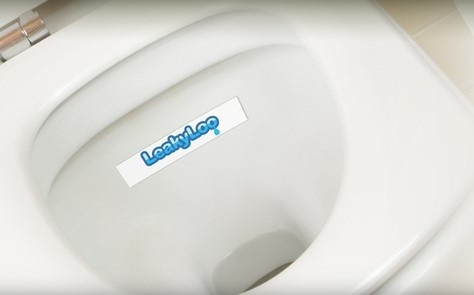 Did you know that a toilet which is constantly leaking clean water from the cistern into the pan can waste around 200 to 400 litres of water a day? That's approximately 2.5 – 5 bath tubs, which is scandalous right?!
Airing on BBC Radio 4 on Tuesday 29th September is 'The Great Leaky Loo Scandal', a programme highlighting how these small leaks are wasting thousands of litres of water per year.
Leaky loos have become a more significant problem recently due to a number of factors; the change in design of toilets to dual flush, along with more households replacing their water systems to mains-fed bathrooms which increases water pressure.
John Mulgrave, Water Regulations Field Manager at NI Water says "1 in 20 households have a leaky loo and yet they often go unnoticed. The leak could look minimal, and some people may even think this is a design feature to keep the toilet bowl fresh.
The worst of leaking toilets can waste up to 8,000 litres a day – which is equivalent to 100 bath tubs! It's easy enough to check if you have a leak and if you do, it's easy to repair."
Would you be able to tell if your toilet is leaking?
How to check if a loo is leaking:
If you can hear a flow of water when the toilet hasn't been flushed or can see a slight but constant trickle at the back of the toilet pan, you may have a leaky loo.
Wait until 30 minutes after the last flush then wipe the back of the pan dry with toilet tissue.
• Place a new, dry sheet of toilet tissue across the back of the pan.
• Leave it in place for up to three hours without using the toilet (it might be best to do this overnight).
• If the paper is wet or torn in the morning, you know you have a leaky loo.
NI Water can give you a free LeakyLoo strip but be quick, kits are only available until 30th September. Simply visit www.savewatersavemoney.com and enter your postcode.
If you have a leak they normally are pretty straight forward for an approved plumber or keen DIY-er to fix, either by adjusting or replacing the bits inside a cistern with new parts for under £10. Make sure the new parts are compliant with the water fittings regulations. To do this, and to search for a watersafe approved plumbing business near you go to www.watersafe.org.uk.
Some other water saving tips for the home include:
• Turn off the tap when brushing your teeth - A running tap can use 6 litres of water per minute.
• Make full use of your washing machine - Half load programmes on washing machines use more than half the water and energy of a full load, so wait until the machine is full before switching it on.
• Take shorter showers - Why not challenge yourself and your family to shower one minute quicker? In a year you could save up to 10,000 litres of water!
• Take a shower instead of a bath - One bath can use up to 100 litres of water, whereas an efficient shower uses under 50 litres. But remember power showers can use more water than baths.
• Car washing - Avoid washing cars and vans frequently, use a bucket and sponge
'The Great Leaky Loo Scandal' is a 30 minute programme airing next Tuesday 29th Sept at 3.30pm, repeated at 9pm on Wednesday.