NI Water Appeal to Businesses & Property Agents - Protect Your Water Pipes
15 December 2020 8:35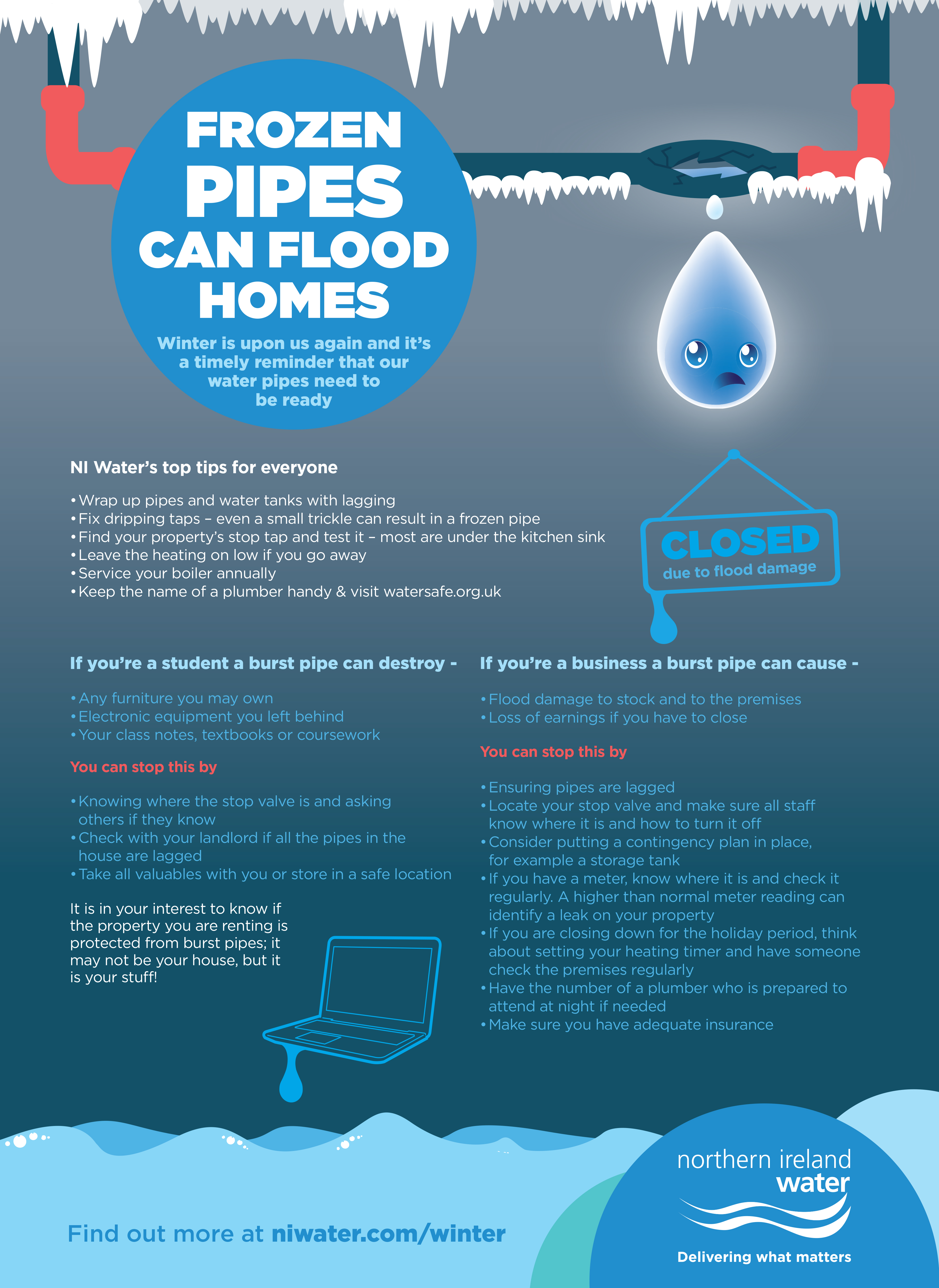 With many offices left vacant recently and empty student accommodation coming up to Christmas, NI Water is asking those responsible to please check their premises and to protect them against frozen pipes. The devastation caused by burst water pipes can lose a business essential weeks or even months of trading.
Unlike previous years, when buildings would have been occupied in the lead up to Christmas, the risk of frozen pipes will be exacerbated as, due to Coronavirus measures, many government buildings have not been occupied for long periods and will have no build-up of residual heat to protect pipes.
How should a business prepare?
Check any unoccupied premises;
Ensure water pipes are well insulated;
Locate your stop valve and make sure all your staff know where it is and how to turn it off;
If your business is beside an empty building make sure you have a contact number for the estate agent or owner in the event of a burst pipe next door leaking into your premises;
Consider what you would do if your water supply had to be turned off for a prolonged period of time. Have you got a contingency plan? For example some businesses have a water storage tank which will provide water for a certain period of time;
If you have a meter, know where it is and check it regularly. A higher than normal meter reading can be the first indicator that there may be a leak on your property;
If you are closing down your business for a holiday period, you need to make plans in the event of cold weather i.e. set your heating timer, have someone check the premises regularly;
Have the contact number of a plumber who knows where your premises is and is prepared to attend at night if needed;
Make sure you have adequate insurance to cover your property in the event of a burst pipe.
What to do if you have a burst pipe:
Turn off your stop valve (turn it clockwise)
Phone your plumber
Phone your insurance company
Large leaks that go undetected can also have a major impact on the overall water supply system.

2020 has been tough enough without adding flooding from burst pipes. It is in your interests to act now, just a few simple steps could save you from the distress, cost and inconvenience of a burst pipe.

Further details can be found at https://www.niwater.com/business-advice/

ENDS