Critical time to minimise herbicide runoff into our rivers and lakes
10 May 2021 9:15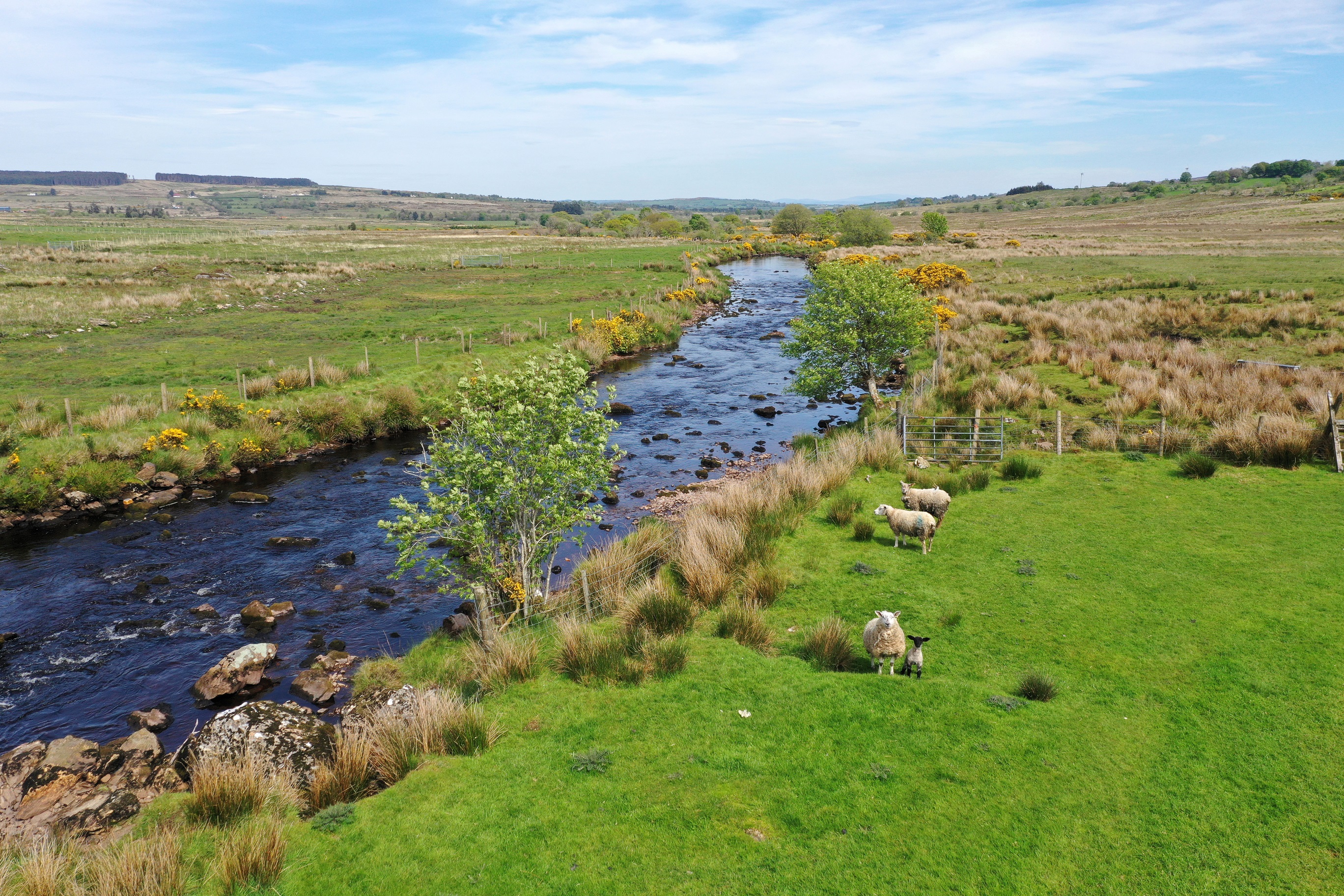 The rush spraying season is upon us and in both Northern Ireland and Ireland, now is the time when farmers and landowners can do their bit and make simple, cost-effective changes to minimise the amount of herbicide reaching the river.
Farmers in the Derg catchment have already been doing this as part of the EU INTERREG VA-funded Source to Tap project and we would urge them to continue this good practice during this spraying season.
The INTERREG VA Programme is managed by the Special EU Programmes Body (SEUPB). Match funding for the Source to Tap project has been provided by the Department of Agriculture, Environment & Rural Affairs in Northern Ireland and the Department of Housing, Local Government and Heritage in Ireland. During rush spraying season (May to October), widespread usage of the broadleaf herbicide MCPA across the island of Ireland has resulted in a corresponding increase of the chemical in nearby rivers and streams.
MCPA is very soluble in water and has a long half-life, meaning it breaks down slowly and is present in surface and groundwater water long after it is first applied on the land. When this happens, the herbicide can be detected in the water abstracted for treatment for drinking water supply. It only takes tiny amounts of MCPA to exceed the Drinking Water Standard of 0.1 micrograms per litre but it is very costly to remove this during the water treatment process. To put that into perspective, in just one second, two nozzles can deliver enough herbicide to exceed the standard in 1.5 miles of water in a good-sized stream. (Voluntary Initiative, Every Drop Counts).
Herbicide runoff is not an inevitability and can be drastically reduced by making changes in agricultural practices around rush control and improving the application process of chemicals where herbicides are used. For example, proper storage of herbicide in sealed chemical cupboards prevents leakage, which stops costly loss of product and reduces the threat to water quality. Likewise, application of the herbicide directly onto the weeds using a weed wiper rather than boom spraying over large areas decreases the amount of product used and almost eliminates air-borne drift.
Credit: Voluntary Initiative, Every Drop Counts.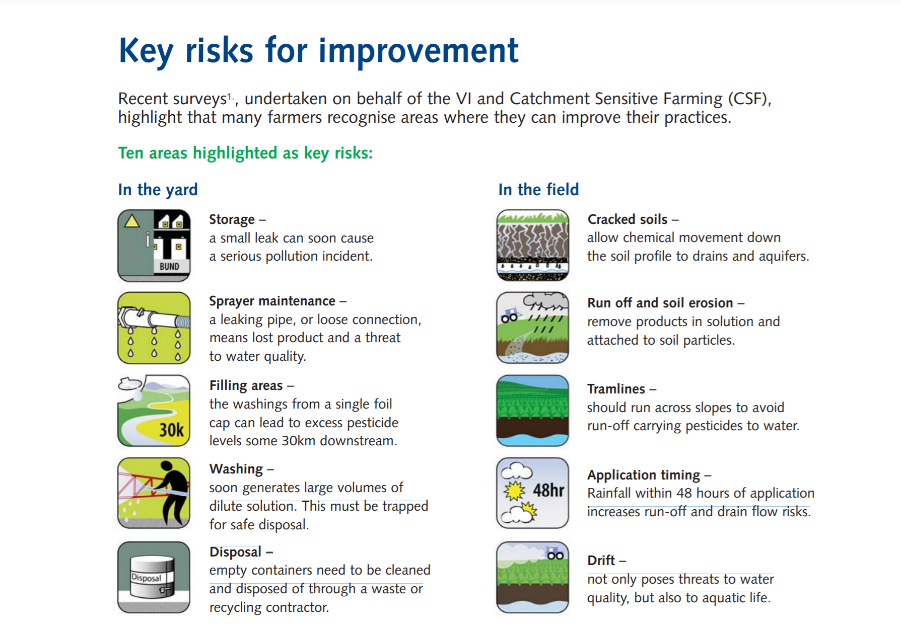 The EU INTERREG VA- funded cross-border Source to Tap project is working to address this and other issues impacting on our rivers and lakes, such as soil loss, in our shared drinking water sources. This cross-border initiative is trialing and monitoring the impact of solutions to the herbicide issue within the Derg River catchment to help deliver clean drinking water in a more sustainable way.
To date, 119 landowners have been offered 100% funding as part of a €1.02 million pilot cross-border Land Incentive Scheme to change the way they carry out herbicide application with the help of personalised Water and Environment Management Plans. Although places on the scheme are now full, the project team are still able to offer advice for any famers wishing to reduce their herbicide usage and runoff.
Alternatively, The Water Catchment Partnership in Northern Ireland, comprised of the Ulster Farmer's Union, DAERA, CAFRE, NI Water and the Voluntary Initiative, and the Department of Agriculture Fisheries (DAFM) and the Marine, and Teagasc in Ireland all have very thorough information on herbicide management.
With the correct information, farmers and landowners can make a real difference in reducing the levels of herbicide reaching our rivers whilst benefiting their farm business. A few alterations to agricultural practices can have a huge impact, saving money, time, improving drinking water quality and allowing our natural water environments to flourish.
Further information on the INTERREG VA project can be found at https://www.sourcetotap.eu/ and advice on herbicide usage can be found on the NI Water website https://www.niwater.com/sitefiles/resources/pdf/watercatchment/adviceonpestacides.pdf ; the Teagasc website at www.teagasc.ie/environment/water-quality/assap-farming-for-water-quality/improving-my-water-quality/protecting-drinking-water-from-pesticides/, DAFM website www.pcs.agriculture.gov.ie/sud/waterprotection and on The Voluntary Initiative website https://voluntaryinitiative.org.uk/media/1012/1463_s4.pdf
- ENDS -
Notes to editor:
• Source to Tap (the Project) is a €4.9 million collaborative, cross-border project, which aims to pilot sustainable, cost effective measures to reduce pollution in shared catchments, and to secure safe drinking water sources and contribute to improvements in cross border raw water quality. The outputs will be shared on a legacy Source to Tap website.
• The Project is led by Northern Ireland Water and delivered in partnership with Irish Water, Agri-Food and Biosciences Institute, East Border Region, Ulster University and The Rivers Trust.
• The Project is funded by the European Union's INTERREG VA Programme, managed by the Special EU Programmes Body (SEUPB) with support from the Department of Agriculture, Environment and Rural Affairs (DAERA) in Northern Ireland and the Department of Housing, Local Government and Heritage (DHLGH) in Ireland.
• The Project will run for nearly 6 years – 2017-2022. It will also work with volunteers and provide training opportunities for land managers/farms/businesses, which will help the project to deliver its objectives of improving freshwater quality.