Park School - Top of the Class for Staying Safe in the Ravenhill Area!
29 June 2021 8:20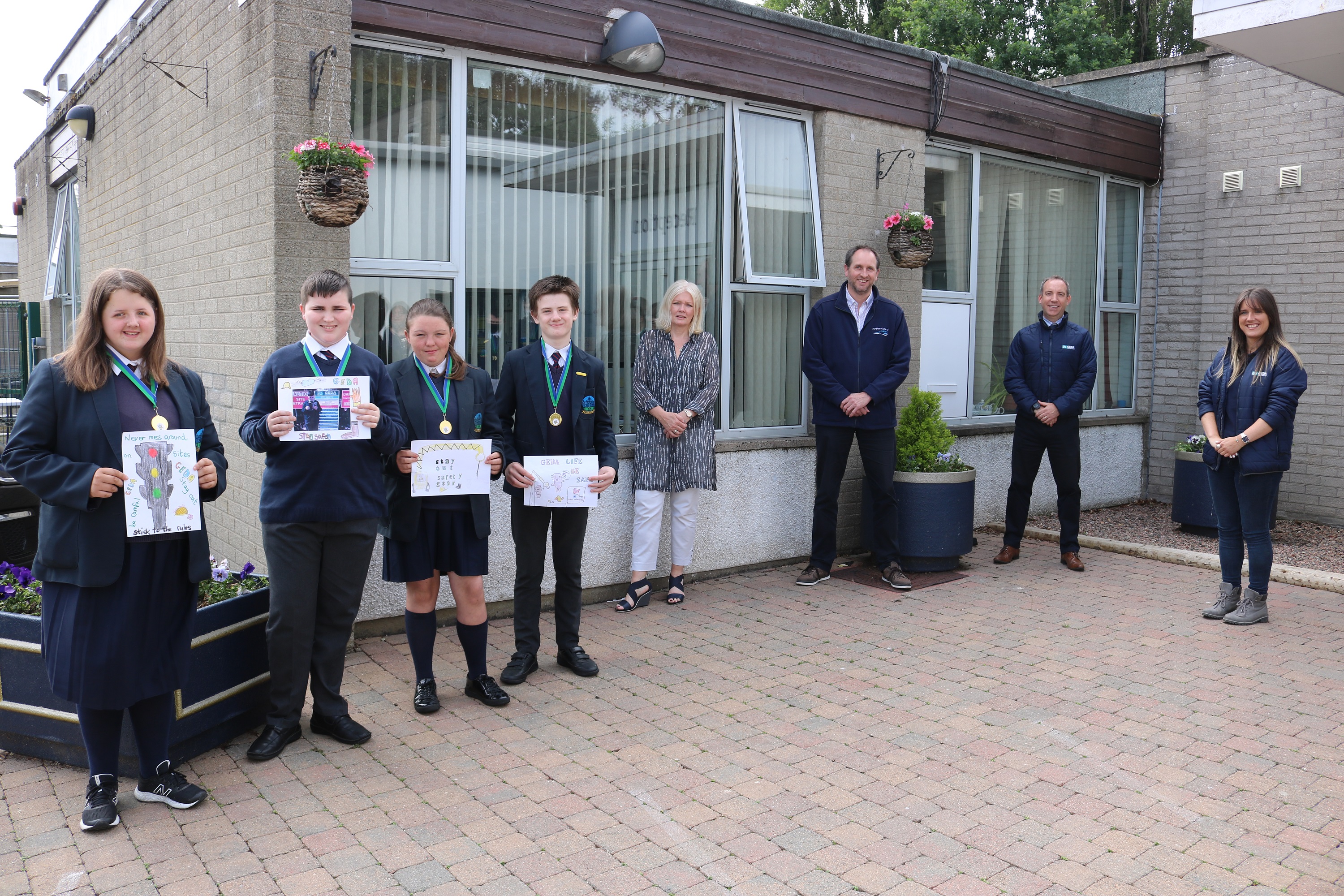 Following a recent safety presentation, NI Water and Geda Construction visited Park School to present pupils with medals for their fantastic "Play Safe" posters in light of the current nearby construction work on the £7 million Ravenhill Avenue Flood Alleviation Project.
The pupils included our contractor's own Health & Safety mascot GEDA Goodbear in their posters, reminding them to 'Be Aware & Take Good Care!'
A huge thank you to Park School from the project team for all the fantastic artwork, which will go forward to be displayed on the project hoardings beside Ormeau park - so watch this space!
Pupils from Park School (left) are pictured with (L-R) Principal Mrs Davis, NI Water's Senior Project Manager David McClean, Managing Director Aaron Hughes and Aisling Henry - both from Geda Construction.
With the Summer Holidays almost here, the team have some simple steps on how to stay safe:
Don't climb on barriers and fences - They are there to protect you from serious injury and accidents when construction work is going on.
Stay away from trenches and open manholes - They are dirty, deep and dangerous. They may also contain hazardous gases.
Be careful near roads - never run out from behind parked vans or lorries as you could be knocked down and injured.
Keep clear of equipment - You may see diggers, lorries, pipes and other equipment, but don't be tempted - steer clear and don't touch!
Obey 'Danger' signs – Construction sites can be very dangerous places, so stay well away and always obey the warning signs.
The Ravenhill Avenue Flood Alleviation Project is progressing well and once complete, will reduce the risk of flooding and increase the capacity of the sewerage system in the Ravenhill area of South Belfast. This essential project involves the upgrade of existing and installation of new sewers along a section of Ravenhill Avenue and surrounding streets.
NI Water and Geda Construction would like to thank the local community for their patience and cooperation as the scheme progresses.
Ends
All media enquiries to press.office@niwater.com