Work Progressing well on Brompton Road/Stricklands Glen Wastewater Pumping Stations
26 August 2021 8:18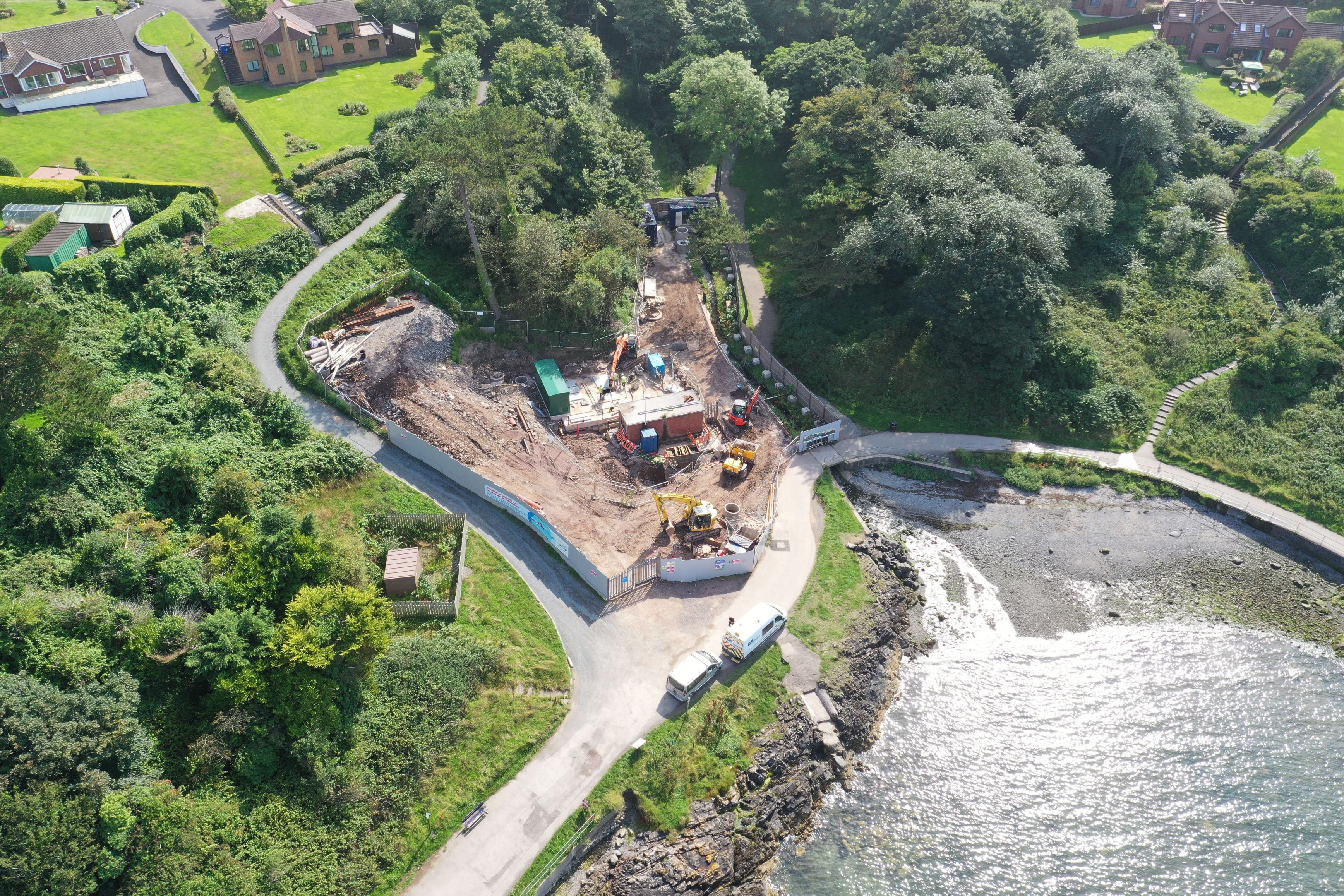 Work is progressing well on the construction of two new wastewater pumping stations at Brompton Road and Stricklands Glen in Bangor as part of a £4m investment to upgrade the local sewerage infrastructure and help improve water quality along the North Down coast.
The wastewater pumping station at Brompton has now been fully lowered to ground level and work is well underway on the new control building. Over the coming weeks work will continue within the site to complete the control building; install mechanical and electrical services for the pumping station and complete ground level concrete works for future maintenance access.
The new Wastewater Pumping Station at Stricklands Glen will be brought into service allowing the existing structure to be demolished. A new storm water storage tank will then be constructed in place of the old tank to increase the storage capacity at this site providing significant environmental protection to the Stricklands Bay area.
This significant investment by NI Water also involves the upgrade of some sections of sewers, and the laying of new pipelines to provide a more resilient network for the future. Further recent investigations into the existing storm drainage on Brompton Road have shown that the area would benefit from a new pipeline to deal solely with storm water flows from road gullies. This will help to further reduce the risk of out-of-sewer flooding and environmental pollution during periods of heavy rainfall. Work on the installation of this dedicated storm sewer along Brompton Road is programmed to commence in early September and we anticipate it will take approximately 6 weeks to complete.
To ensure that this work is carried out as safely as possible and following agreement with the Department for Infrastructure, the road closure on Brompton Road will be extended to the start of November 2021. This will facilitate the ongoing construction work at the Brompton Road site, as well as the additional pipelaying works associated with the new dedicated storm sewer.
NI Water along with our contractor BSG Civil Engineering Ltd. would like to thank the local community for their ongoing patience and cooperation as we continue with these essential works.
Once complete, these important upgrades will protect and enhance the environment, reduce the risk of out-of-sewer flooding and improve bathing water quality along this section of the North Down coastline.
ENDS.
For further information, please contact NI Water's Press Office on 02890 354710 or email press.office@niwater.com