Primary School Pupils encouraged to discover the fascinating world of Peat Bogs with the chance to win some great prizes!
25 March 2022 11:48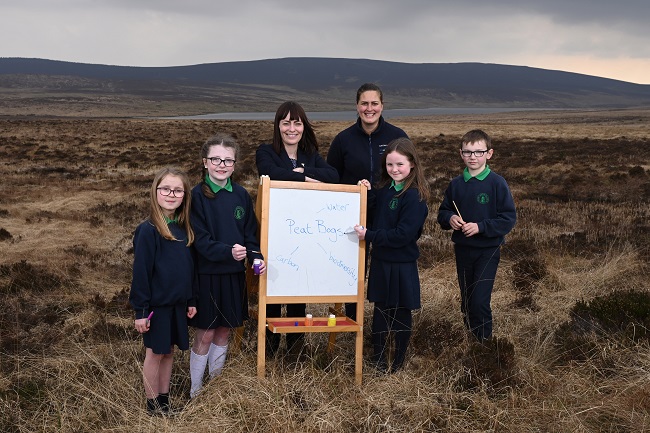 NI Water's annual primary school poster competition is now open for entries with a focus on the fascinating world of peat bogs.
Key Stage Two pupils are encouraged to create a poster to highlight the importance of our peat bogs and why it is essential to look after this valuable habitat while illustrating what we can all do to help preserve these unique eco-systems for the future.
Infrastructure Minister Nichola Mallon said: "This peat bog poster competition provides a unique opportunity for our young people to artistically explore the importance of peat bogs for our planet.
"Children are very aware of the climate emergency and the importance of acting now to ensure they inherit a safer, cleaner and greener world. These peat bogs represent how nature itself often holds solutions to the problems climate change is exacerbating. Peat bogs play a vital role in helping to prevent flooding and improve water quality as well as offering sanctuary to wildlife – but we need to act to improve the condition of these bogs so that they can perform this vital function.
"I hope lots of Key Stage 2 children enter the competition as I know there will be lessons that we can all learn from their creations."
Anna Killen, Outreach and Learning Officer at NI Water explains "Working alongside colleagues in NI Water's Catchment Team it was fascinating to discover that peat bogs can play an important role in tackling climate change as they are an excellent system for capturing and storing carbon.
"On first glance a peat bog can appear a bit brown and boring but on closer inspection they are home to some of the most interesting and unique plants including the carnivorous sundew. They also play a vital role in preventing flooding and helping improve the quality of water entering our water treatment works, and are homes for many species of birds and animals.
"Unfortunately, much of the peat bogs here and across the world are in poor condition meaning they release more carbon than they store so there is no better time to have a better understanding about the value of these special habitats and discover the important role they can play in our fight against climate change.
"Through our 'The importance of Peat Bogs' competition we have some fantastic prizes up for grabs for both schools and pupils and we would encourage all teachers to contact our education team at education@niwater.com to find out how to enter. Or why not book a special education visit from our team to explore the wonders of peat bogs and help generate ideas for competition entries."
NI Water owns around 3000 hectares of peatlands and are working hard to protect and restore bogs that are in poor condition and have completed vital work on the Garron Plateau in North Antrim which is the largest blanket bog in Northern Ireland.
With over 100 bogs to visit across Northern Ireland why not visit one of your local bogs at Garron Plateau, Cargan or Montaighs Moss Nature reserve, Aghagallon to discover more about these fascinating habitats?
ENDS
For more information please contact press.office@niwater.com
Photo Caption:
Infrastructure Minister Nichola Mallon visited the Garron Plateau in County Antrim to launch NI Water's Schools Peatlands Poster competition. Pictured are Grace, Annie, Shauna and Peter from St Mary's Queen of Peace PS, Glenravel with Anna Killen Outreach and Learning Officer, NI Water.