Source to Tap hosting Agricultural Contractors' Roadshow In Castlederg
22 April 2022 9:50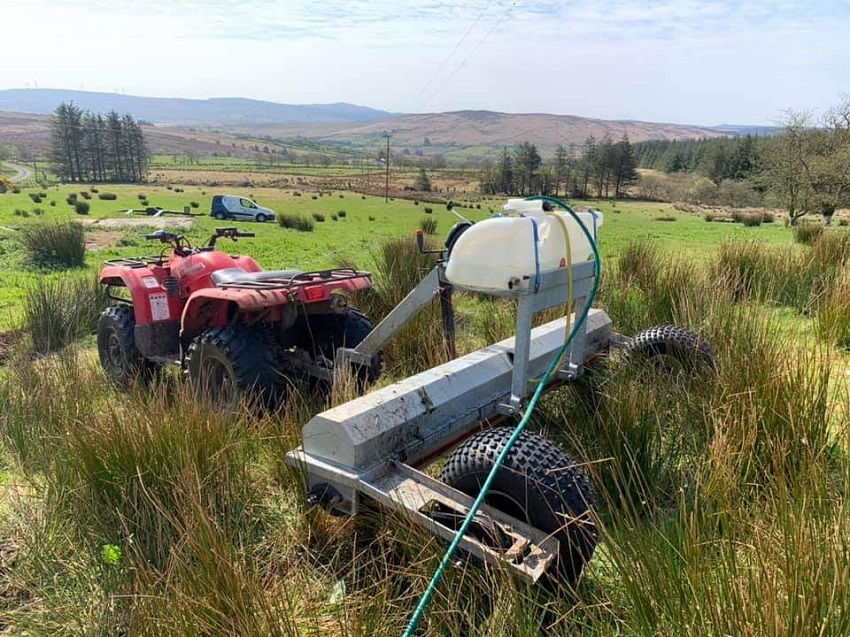 Source to Tap is inviting all farmers, landowners and contractors in the River Derg area to attend a free agricultural contractor fair and information roadshow being held on Thursday, April 28, from 11am to 4pm at Aghyaran Saint Davog's GAA Club, near Killeter, Castlederg.
This free, informative, event is being organised to allow landowners to meet local agricultural contractors and to offer advice on water-friendly agricultural services such as weed-wiping for rush control and livestock exclusion fencing to prevent riverbank erosion. The event will also share some of the important learnings from the Source to Tap project, that could benefit landowners and farm businesses.
The Source to Tap team will also update attendees on work undertaken on the Land Incentive Scheme in the River Derg catchment.
Supported by the European Union's INTERREG VA Programme, Source to Tap is an innovative partnership project that has been working since 2017 to improve the health of waterways in the cross-border catchments of the Erne and Derg rivers.
Through the development of sustainable, catchment-scale solutions, Source to Tap has been working with local communities to develop effective ways to protect rivers and lakes. Source to Tap has also trialled various land management measures in forestry, peatland and agriculture and the outreach programme has been informing the public about their critical role in protecting our waterways.
The agricultural sector has been key to the success of many of the Source to Tap projects and as the program concludes in Summer 2022, this upcoming event on April 28 will help inform future best practices for protecting local watercourses
Everyone is welcome to come along and find out more about protecting the water environment and how such measures can help reduce financial outgoings on the farm.
For more information visit www.sourcetotap.eu
-ENDS-
Notes to editor:
Source to Tap (the Project) is a €4.9 million collaborative, cross-border project that aims to deliver a Sustainable Catchment Area Management Plan (SCAMP) to protect source drinking water catchments.
The Project focuses on the Erne and Derg cross-border river catchments and will deliver a number of outputs including:
a public engagement and education programme aimed at raising awareness of the impacts on activities on our rivers and lakes which are the source of the water abstracted for drinking water supply,
pilot forestry best practice and peatland restoration projects to reduce sedimentation and colouration of water and;
a €1.2 million Land Incentive Scheme in the Derg river catchment, targeted at encouraging water-friendly farming practices.
The Project is funded by the European Union's INTERREG VA Programme, managed by the Special EU Programmes Body (SEUPB) with support from the Department of Agriculture, Environment and Rural Affairs (DAERA) in Northern Ireland and the Department of Housing, Local Government and Heritage (DHLGH) in Ireland
(Total project value €4.9 million; €4.17 million through the European Regional Development Fund (ERDF) through INTERREG VA and €0.7 million match funding through DAERA and DHLGH)
The Project is led by Northern Ireland Water and delivered in partnership with Irish Water, Agri-Food and Biosciences Institute, East Border Region, Ulster University and The Rivers Trust
The Project has run for 5 years – 2017-2022
For more information contact Diane Foster – Source to Tap Project Manager (diane@sourcetotap.eu telephone 00 44 (0)7825 669379) or visit www.sourcetotap.eu
PRESS QUERIES – Please e-mail info@sourcetotap.eu or call 00 44 (0)7799 774702