Social Value to play pivotal role in the future of Public Awarded Contracts
06 July 2022 14:41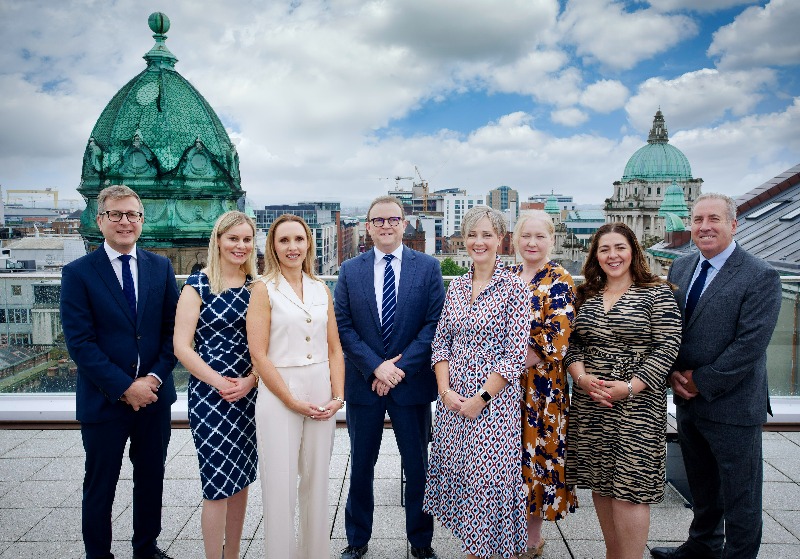 "Delivering even greater social value together" Pictured are (L-R) David Elliott, Senior Client Director, Lanyon Group, Eilis Kelly, Head of Commercial, NI Water, Paula Graham, Head of Learning and Engagement, NI Water, Ronan Larkin, Director of Finance, Regulation & Commercial, Lynne Rainey, Partner, PwC, Esther Barnes, Social Value Advisor, Strategic Investment Board, Maeve Monaghan, CEO, NOW Group, Leo Martin, Managing Director Civil Engineering, Graham
NI Water and the Social Value Unit at the Strategic Investment Board (SIB) shared this message with public, private and third sector organisations at their June 30th 2022 Social Value Supplier Engagement Session.
The hybrid event, which was held at PwC, Belfast and streamed to a live online audience, focussed on the introduction of the new Social Value Policy which outlines that scoring social value in public awarded tenders will now be a mandatory requirement. The event also highlighted the opportunities that are available for the supply chain and the social, economic and environmental benefits that can be achieved, when delivering social value through the life of a contract.
Commenting on the recent introduction of this policy, Infrastructure Minister John O'Dowd said: "I want to congratulate everyone involved in this event. Building social value in to contracts will be critical in delivering real change for people. I welcome this cross sectoral collaboration and enthusiasm to work together to deliver benefits for people. We can be an exemplar for change and I would encourage everyone to promote best practice in delivering on our social value commitments."
Speaking at the event, Ronan Larkin, Director of Finance, Regulation & Commercial at NI Water highlighted,
"This event has given us a great opportunity to engage with key stakeholders on how we can fully embed social value into public awarded contracts. Ronan added, "This is just the start of the social value conversation. Hearing from multiple sectors about initiatives already in place and their future social value strategies has been extremely positive and illustrates a solid level of commitment. It is encouraging to see what these future collaborative partnerships can deliver for people and for communities here."
In attendance at the event and outlining the main principles of the policy, Esther Barnes, Social Value Advisor said,
"Working alongside NI Water on this event has enabled us to bring the social value policy to life. Engaging with suppliers and third sector organisations is really important to us. We want them to know that we are here to support with this new change in public procurement and this event has enabled us to do just that." Esther continued, "We are overwhelmed by the enthusiasm and the level of engagement that has been demonstrated and we look forward to supporting the supply chain in putting social value at the core of their business."
ENDS
Notes to the editor:
In the summer of 2021, Finance Minister Conor Murphy announced that policy within public procurement is changing and from 1st June 2022 public procurement will no longer solely award contracts based on cost and quality but tenders (above threshold) must allocate a minimum of 10% to social value. This will apply to service contracts valued above £426,000 and construction contracts valued above £5.3 million
Public Procurement in Northern Ireland spends in the region of £3 billion annually on supplies, services and construction works, with NI Water accounting for, in the region of £300m of this spend.
For more information please contact press.office@niwater.com