Burst watermain causes water quality issue on Sligo Road, Enniskillen
06 July 2022 16:29
NI Water has confirmed the temporary 'Boil Water Notice' on a number of properties on the Sligo Road, Enniskillen is still in place. The notice was put in place following damage to a watermain in the area by a third party contractor.
'The Boil Water Notice' is a precautionary measure following repair, flushing and disinfecting of the damaged watermain. All properties impacted will have received a card through their door.
Dymphna Gallagher, Head of Drinking Water Regulation explains:
"Our number one priority is the quality and safety of your drinking water. Our policy is to err on the side of caution if we believe there might be a risk to your water supply. Therefore, until we are fully satisfied the water quality has returned to normal, we would ask customers to follow the advice to boil their water for drinking and cooking. The water can be used for washing, bathing and flushing toilets.
"The boil notice will remain until further testing shows samples have returned to normal. While we appreciate this will cause major inconvenience, it is important households follow the instruction to boil water before use."
A postcode search facility to identify specific customers affected is available on the NI Water website www.niwater.com
Customers will be notified as soon as their water can be used without boiling for drinking or cooking. Regular updates will be provided to customers through our website, niwater.com, and social media channels.
NI Water is working in full co-operation with the Public Health Agency and the Drinking Water Inspectorate for Northern Ireland.
NI Water would like to thank customers for their patience.

ENDS
All media enquires to NI Water press office on press.office@niwater.com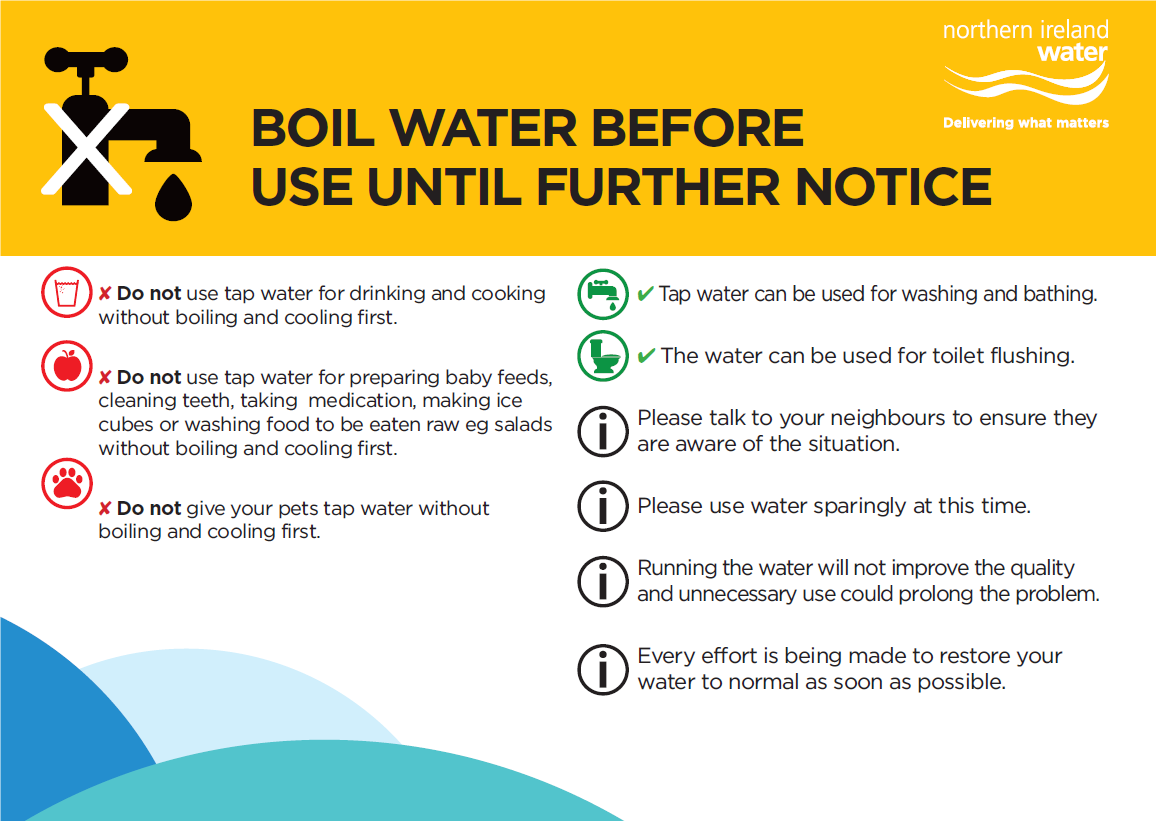 NI Water have a robust testing and sampling system which sees over 120,000 samples lifted and analysed each year.
Samples are analysed by a team of scientists based in laboratories in Belfast and Altnagelvin, providing NI Water with its own in-house scientific expertise and knowledge.
Monitoring provides an early warning to highlight any issues that might be unfolding with drinking water quality.
NI Water also has a tried and tested incident response team which ensures staff and resources are deployed quickly to resolve any problems with any of our assets.
Therefore, we can move to reassure the public that every measure is being taken to safeguard their water supply and maintain the highest ever drinking water quality Northern Ireland has ever had.