Source to Tap Project – Legacy Website Now Available
10 August 2022 16:00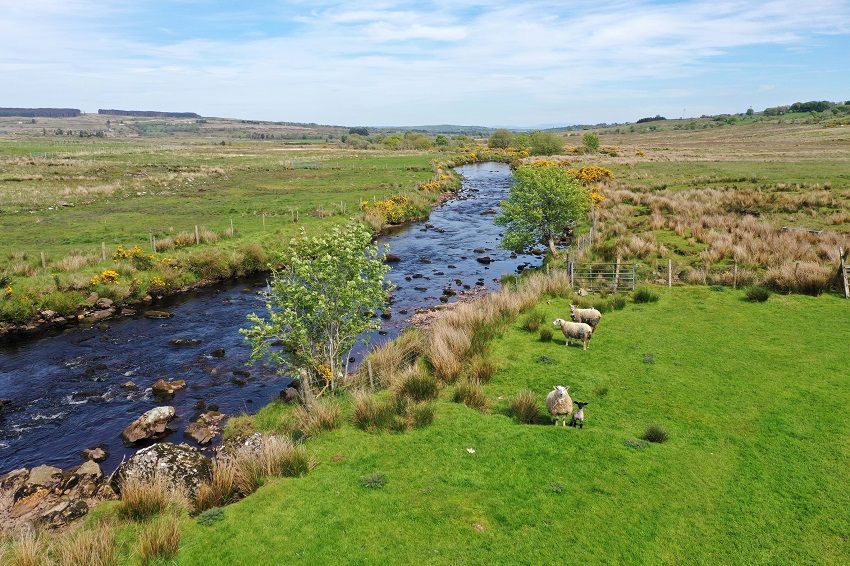 As the five-year, cross-border Source to Tap project successfully concludes, a new website has just been launched to help inform and educate future source water improvement projects. Launched in 2017, Source to Tap was a €4.9M cross-border partnership project aimed at improving water quality in rivers and lakes in the Derg and Erne catchments. The project was delivered across five themes:
Learning for Water: Education
Love Your Water: Citizen Science
Farming For Water: Agriculture
Forests For Water: Forestry
Peatlands for Water: Peatland restoration
The newly launched, easy-to-navigate website site hosts a selection of valuable resources, including videos, guides, education packages, information leaflets and reports which document the learning and insights gained over five years of the project. The website brings together the Source to Tap approach to sustainable, cost-effective catchment management, which delivered a 'watershed moment' in drinking water protection on the island of Ireland.
The website has been designed to make the outputs of the Source to Tap project accessible to everyone, allowing stakeholders across the water utility, scientific, policy, community and education sectors to benefit from the information generated by this innovative and ground-breaking project.
This website invites those with a professional, practical or academic interest to explore what Source to Tap has delivered, including the key outcomes and learnings from the project and how this can be replicated and applied in other river catchments.
From the website home page (www.sourcetotap.eu) users can choose to access information from one of three entry 'portals':
In each portal, information from each of the relevant five themes of the project is organised for easy navigation and access.
Users can browse technical reports/scientific information such as detailed reports on the peatlands and forestry for water pilot studies or view supporting resources, including overview/summary documents and guides, videos and other downloadable resources such as educational and teaching materials.
The site also gives access to videos of presentations and talks from the Source to Tap closing conference, which was held in Lough Erne Resort in Fermanagh in May 2022.
Whether you just want to scratch the surface of integrated catchment management for source drinking water protection or immerse yourself in the science and economics behind our approach, the Source to Tap legacy website has something for everyone.
Source To Tap was funded by the EU's INTERREG VA programme managed by the Special EU Programmes Body (SEUPB) together with funding from the Department for Agriculture, Environment and Rural Affairs (DAERA) in Northern Ireland and the Department for Housing, Local Government and Heritage (DHLGH) in Ireland. The Source to Tap project partners are: NI Water, Irish Water, Agri-Food & Bioscience Institute, The Rivers Trust, Ulster University and East Border Region.
-ENDS-
PRESS QUERIES – Please e-mail NI Water's Press Office - press.office@niwater.com
Source to Tap is a €4.9 million collaborative, cross-border project, which aims to deliver a legacy website for the protection of source drinking water catchments.
In the last five years, the Source to Tap Project has delivered:
A €1.16 million investment in on-farm water protection measures on 118 farms in the River Derg catchment. This was delivered by creating a unique, cross-border, pilot Land Incentive Scheme, which has resulted in a marked reduction in the volume of the herbicide MCPA in this source drinking water river.
Cutting edge catchment-management science, leading to a new understanding of how the herbicide MCPA moves through and persists in the island of Ireland's watery landscape.
Restoration of over 20 hectares of peatbog that was previously planted with Lodgepole pine using various techniques, including a new method called cell bunding.
Design and trial of new, low-cost measures to further reduce the impact of forestry clear felling on sediment loss to nearby rivers and streams in shared source drinking water catchments.
A new, online and in-person education programme was developed and delivered to over 1900 upper primary school-aged children. This was designed to widen their understanding of where water comes from, how rivers form, what lives in our rivers, the pressures we place on them and how water is treated to make it safe to drink. In addition, over 40 citizen scientists have been trained to monitor local water quality and empowered to act if water quality is impacted.
A legacy website www.sourcetotap.eu, underpinned by peer-reviewed science and economic analysis. The various outputs from the project will be made available on this legacy website so that others may learn from and replicate the Source to Tap approach to protecting shared drinking water catchments across the island of Ireland and beyond.